The workshop aims to raise cyber hygiene awareness for staff, members and volunteers of VWOs and the community & social care sector.
About this event
WHAT?
This event is brought to you by SG Cares Volunteer Centre @Tampines (operated by Brahm Centre), in collaboration with regional cybersecurity consultancy Lunagratis.
The workshop aims to raise cyber hygiene awareness for staff, members and volunteers of VWOs and the community & social care sector.
Cybersecurity is critical to organisations and individuals because it protects all categories of data from theft and damage. During the Covid-19 pandemic, the shift to remote work and online business operations saw a corresponding rise in cyberattacks.
One attack approach targeted mobile phone and computer users. Through scams, phishing and other methods, cyber attackers stole personal data as well as money, and hacked into organisations' computer networks.
This workshop will cover:
• Tips on recognising online scams including phishing
• Securing your email
• Protecting your password
• Updating your phone, tablet and computer software
• Understanding what you can lose to cyber attackers
• Working with personally identifiable information
• Understanding the dangers of social networks
Lunagratis' curriculum is IMDA-approved.
*Brahm Centre only permits fully vaccinated individuals entry to our venues
WHEN?
Friday
January 28th, 2022
2pm-5pm
*please arrive by 1.30pm at Brahm Centre @ Tampines for registration and check-in
WHERE?
Brahm Centre @ Tampines
*this event is only open to fully vaccinated individuals.
WHO?
Alvin Tan has over 25 years' experience in the IT industry. He has a deep understanding of cybersecurity technologies and the industry's developments and trends. Over the course of his career, he has experienced and dealt with many cybersecurity challenges in ASEAN.
Alvin has worked with large enterprises, governments and SMEs across this region, helping them establish robust cybersecurity frameworks for safe and secure operations. He is currently a Regional Vice-President with global cybersecurity firm Tanium. Prior to Tanium, Alvin worked with Palo Alto Networks and McAfee.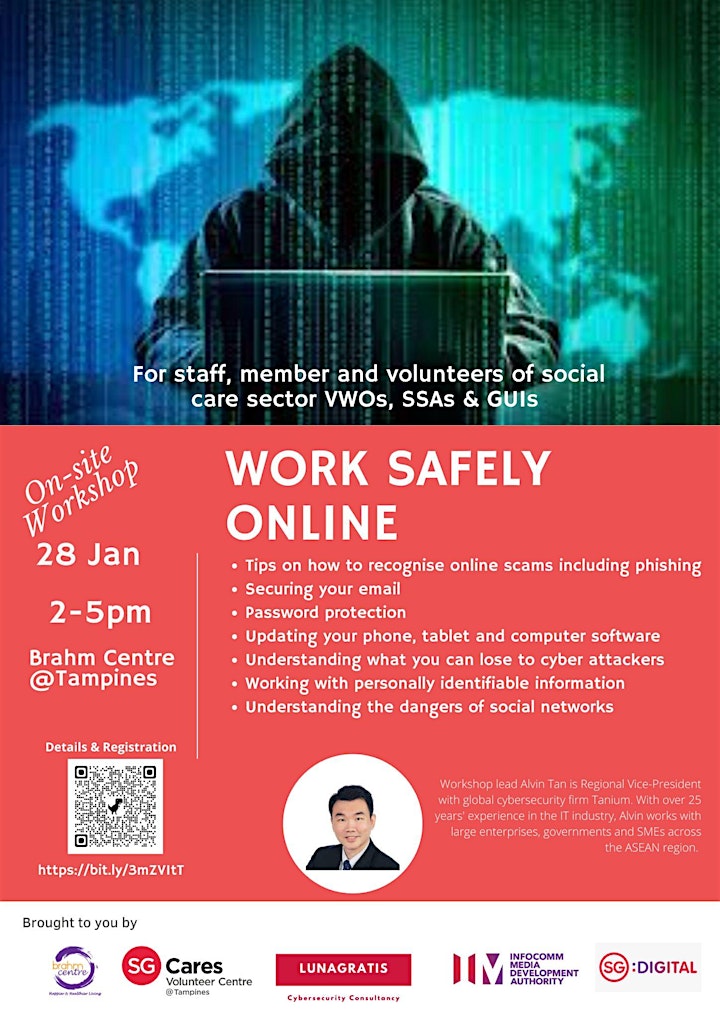 Organiser of Work Safely Online (Workshop @ Tampines)- TP20220128HT
Brahm Centre is a leading course provider of a wide range of science-based mindfulness programs to reduce stress and enhance well-being in today's fast paced world. We have worked with healthcare agencies, schools and corporations to equip employees, parents and students with mindfulness tools to help them stay physically and mentally well. 
Course graduates may enhance their practice by joining our weekly mindfulness clubs. Furthermore there are free regular health talks conducted by healthcare professionals and qualified speakers open to the public.
Launched in 2012 as a charity that aims to promote happier and healthier living, Brahm Centre is a full member of the National Council of Social Services and an Institution of Public Character.
Come begin your mindfulness journey with us. 
Please note that all course registrations are NON-refundable. Transfer of selected mindfulness courses is subject to a $30 transfer fee and a $10 admin fee for a mindfulness make-up class. There are NO transfers or make-up classes available for all other courses.