Sales Have Ended
Ticket sales have ended
The ticket sales have ended. For any enquiries, please call 65474407 or email info@simplyislam.sg.
Sales Have Ended
Ticket sales have ended
The ticket sales have ended. For any enquiries, please call 65474407 or email info@simplyislam.sg.
Description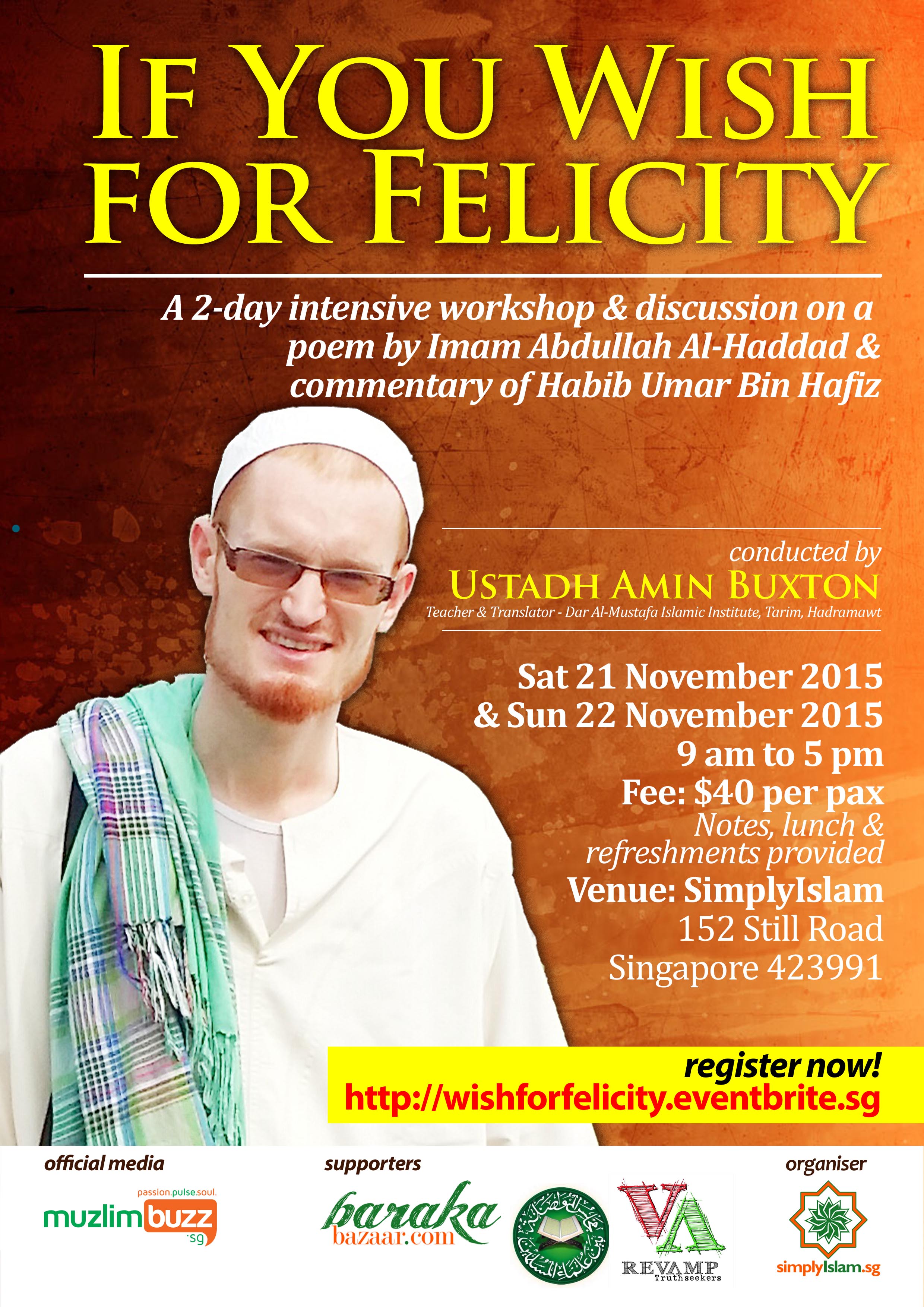 SimplyIslam, in collaboration with Majlis Al-Muwasolah Singapore and Revamp, is pleased to organise for the first time, a discussion with a visiting Islamic teacher, Ustadh Amin Buxton. He will be discussing the subject of "If You Wish for Felicity" based on a poem by Imam Abdullah Al-Haddad, and commentary by Habib Umar Bin Hafiz. The poetry contains a complete exposition of the Islamic spiritual path and instructs the seeker in 43 verses how to attain everlasting felicity.
In the poetry, Imam Al-Haddad gave advice to his students on the path to Allah, and building a relationship to Allah's Messenger, Prophet Muhammad, peace be upon him. He discusses the rewards and glory one can achieve during the Judgement Day and the Hereafter, by having absolute certainty. He also urges his disciples to follow and practice the Ashʿari school of Islamic theology because it is the source of absolute protection from deviation and disbelief.
Imam Al-Haddad also advises his disciples to learn from the Holy Qur'an, and to also learn from the Proof of Islam (Hujjatul Islam), Imam Al-Ghazali, by studying his written magnum opus, the Ihya' Ulum al-Din (The Revival of Religious Sciences).
In the poetry Imam Al-Haddad wrote on the importance of humility in the quest for God. He also stressed on the importance of perseverance, gratitude and sincerity as they are keys to happiness. And he ended his poetry by emphasising on the five important points for the disciples to hold on to – perform the five obligatory prayers in congregation, perform the night vigil prayer, perform the Witr Prayer, seek forgiveness from Allah, and repent for one's sins.
Imam al-Haddad used poetry as a means of counselling people and calling them to Allah, and he placed great secrets in his collection of poetry (Diwan). In order to study the poem Ustadh Amin Buxton will be referring to the commentary of Habib Umar bin Hafiz to see how a living master explains the words of a great master of the past.

Event Details
Title: Workshop & Discussion "If You Wish for Felicity" with Ustadh Amin Buxton
Date: Sat/Sun 21 & 22 November 2015
Time: 9 am to 5 pm
Venue: SimplyIslam, 152 Still Road
Fee: $40 per participant (notes, lunch and refreshment provided for each day)
About Ustadh Amin Buxton
Ustadh Amin Buxton hails from the United Kingdom. He converted to Islam in 1999 and graduated with a bachelor's degree in Arabic and Islamic Studies from the famed School of African and Oriental Studies (SOAS), London, in 2003. After his SOAS studies, he furthered his Islamic studies at the Dar al-Mustafa Institute in Tarim, Yemen where he studied under many learned scholars of our time such as Habib Umar bin Hafiz and Habib Kadhim as-Saqqaf, amongst others. His studies have included Arabic Grammar, Shafi'i Fiqh, Tafsir, Hadith, Sirah, Aqidah and Tasawwuf.
Today, Ustadh Amin continues to be an advanced student of knowledge at Darul Mustafa whilst carrying out teaching and translation duties at the same institution. Ustadh Amin also performs live Arabic-English translations of Sayyidil Habib Umar bin Hafiz's speeches at various events, and has travelled to across Europe to teach Islam, both as a da'i in his own right, and as a translator for the likes of Habib Umar bin Hafiz, Habib Kazim As-Seggaf, and others.
Ustadh Amin is the main administrator and writer at Muwasala.org which functions as, amongst other things, an English-language da'wah (missionary) platform in the manhaj (methodology) of the School of Hadramawt.
He has translated several classical and contemporary Islamic literature into English including Qutbul-Irshad Imam Al-Haddad's poem "If You Wish For Felicity", and Shaykh Umar bin Hussein al-Khatib's "Prophetic Guidance". He is also author of "Imams of the Valley".
Organiser of Workshop & Discussion "If You Wish for Felicity" with Ustadh Amin Buxton
Traditional. Progressive. Dynamic. Experience the Beauty. SimplyIslam.
The As-Siddiq Centre for Islamic Studies Pte Ltd, commonly called SimplyIslam, is a private organisation dedicated towards education, social & community development, literary services and humanitarian services to facilitate progression of society. SimplyIslam is committed to the retention of tradition, culture & esteemed values whilst integrating contemporary challenges facing humanity today.  SimplyIslam's mission reflects its fresh and innovative approaches to communicate the beauty of Islam, whilst being deeply rooted in Islamic Sunni traditions, with a progressive & dynamic approach to modern life.