An Osho-inspired meditation session that is suitable for all levels of pactitioners.
About this Event
This technique helps the practitioner clear the mental chatter of the mind, creating presence and spaciousness for meditation. It creates contrasts in order to activate the Observer within us to observe more subtle energies. It is great fun when practiced in a group! Come with an open heart!
No mind is actually a combination of active tools such as Gibberish and shaking (what the kundalini technique uses), ending in quiet contemplation. During the technique, contrast is created by engaging in a vigorous activity (ie speaking in Gibberish or shaking) then dropping into silence. Essentially, we repeat the process of shaking/Gibberish and dropping into silence a few times. Until the mind is silent. Then we do a simple guided contemplative meditation.
About Active Meditation
The practitioner is guided to notice subtle sensations in the body, watch the rise and fall of the breath and gradually make space for meditation to happen from the side. One can invite more clarity, experience new perspectives, practice gratitude, cultivate an overall sense of balance and wellbeing, among many other benefits through active meditations.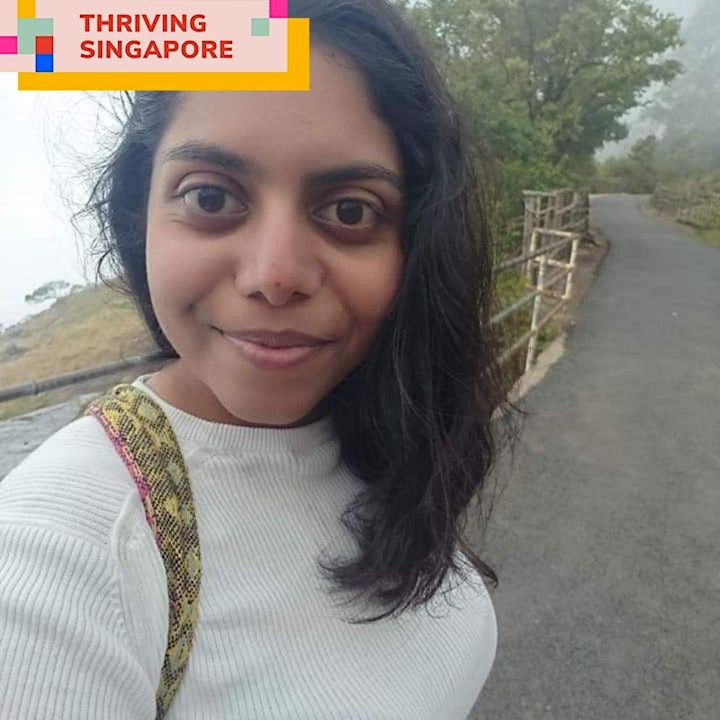 About your guide
Sharanyaa De Laure
Sharanyaa De Laure is a joyful facilitator of active meditations. Active meditation are structured mediation methods that cultivate awareness through a combination of sound, movement and breath-work.
Note
We understand time can be tight. However, please try to join us early or be on time. About 10-15 minutes into the programme, the meditation session will start, and we will not be allowing anyone else to enter the room, for the best experience for the other participants.