Learn to create this unique preserved flower wall hanging which doubles up as table flowers at our studio!
About this Event
Learn to create this unique wall hanging and table flowers at our studio!
Our studio workshops are designed and catered for individuals to small groups. Expect to have a therapeutic time working with a variety of preserved and dried flowers in different colours.
You will receive direct, step-by-step instructions from our Floral Artist in a cozy home studio environment.
Fees include all materials. Tools such as scissors will be provided to you. Ideal for bridal/hen's parties/girls' day out or simply a meaningful and quality time spend with loved ones.
Level
No experience required
Workshop Outcomes
Learn various techniques on preparing, treating and arranging preserved and dried flower together for wall hanging.
Take home your own creation and find a cosy spot for it.
Dimension
27cm x 18cm x 10cm
Date
Saturday/Monday/Tuesday/Wednesday/Thursday (Choose a day)
Time
2pm to 4pm (2 hours)
Venue
3 Joo Chiat Road, Singapore 420003 (Full address details will be emailed to you)
Please book 5 days excluding Sunday in advance. An email confirmation will be sent to you.
*For corporate workshops to be held at your venue or for more than a group of 4, please contact us.
Reviews
A very patient instructor, guiding every step of the workshop. For a first timer in floral arrangement, I have fell in love with how therapeutic is the process and the pleasing aesthetic of the floral bouquet have brought my eyes to. Thank you Fyon for the great experience.
- Carissa C
Fyon is a patient and encouraging teacher -- take a workshop with her to create your own handmade floral arrangement. It's fuss free and she explains things simply. She uses preserved flowers, so at least your handiwork will last a long time! :) It's a unique gift for friends and family.
- Weiie L (Facebook Review)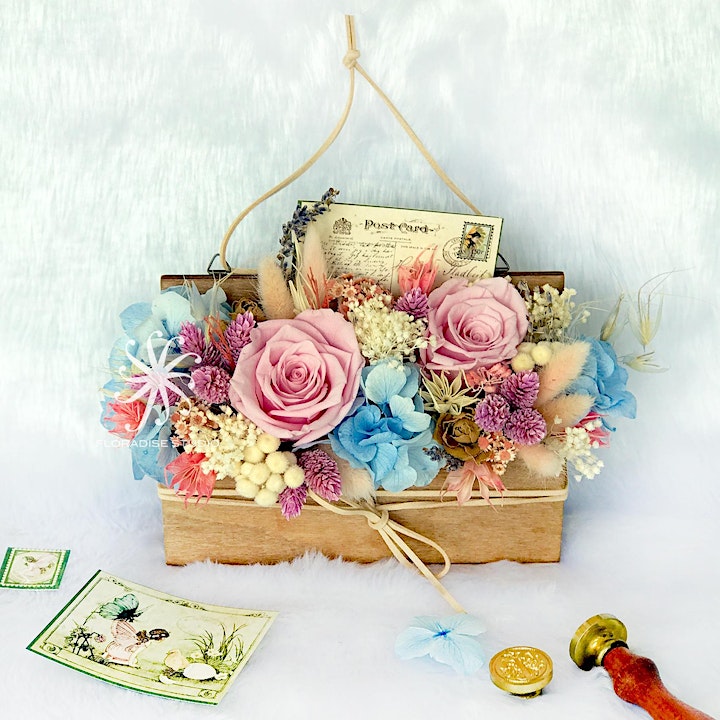 Floradise Studio
Floradise (pronouced as floral dice)
The studio deals with preserved flowers, real botanicals and natural materials derived from nature that may be used for flower art and arrangements.

Paradise
/ˈparədʌɪs/
an ideal or idyllic place or state.
the abode of Adam and Eve before the Fall in the biblical account of the Creation; the Garden of Eden.
Believes that nature is greatest gift and brings a lot of joy to one's soul. Preserved flowers last eternally.
Mission

To provide creative floral therapy to participants by instilling creatively, confidence and connection

Vision

To bring workshop participants and recipients of our flower products a sense of heaven (spa like experience - love, joy, fulfilment)