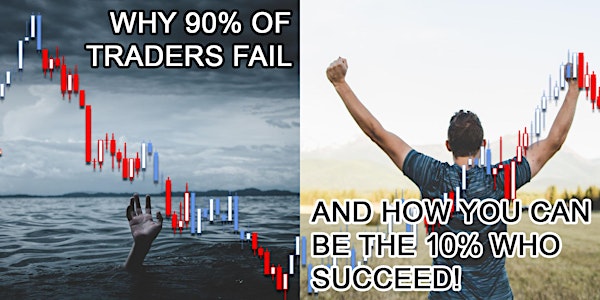 Multiple dates
Workshop: Why 90% of Traders Fail and How You Can Be the 10% Who Succeed!
Have Your WIN with Rocket Method™
By Concept Of Price Trading
Date and time
Thu, 22 Sep 2022 19:30 - Wed, 19 Apr 2023 21:30 +08
Location
51 Cuppage Road #03-03 (Former Starhub building, located behind Centrepoint) 51 Cuppage Road #03-03 Singapore, 229469 Singapore
About this event
Did you know that 90% of traders fail? But it doesn't have to be that way.
Are you tired of feeling like you're always on the losing side of trades?
Are your emotions getting in the way of your trading success?
Are you tired of making the same trading mistakes over and over again?
Do you want to learn the Secrets of Successful Traders (accurate Mindset & Habits of Thought) and join the Elite 10% who profit in the markets?
Our Speaker used his Expertise in Psychology & Communication to Master the Art of Trading.
Here's What will be Revealed in this 2 Hour, Content-Packed FREE Seminar:
-The Most Common Mistakes that cause traders to fail (and How to Avoid Them)
- (Are your emotions getting in the way of your trading success? You're not alone).
Strategies to Master your Emotions & Master the Markets.
-The Mindset and Habits of the 10% Successful Traders.
-How to Identify High-Probability Trading Opportunities in Index Futures.
-Strategies for Managing Risk and Maximizing Profits.
Veteran Traders
Find their method is not working in current markets
When 1 trade wipes out all the profits of the past multiple trades
When you find your stops keep getting taken out
Most have No step by step consistent method and system to guide them in trade selection & profit taking
No Consistent Help & Support in Answering Questions
Most Beginners
Do not know where to start, which method or idea is suitable and safe for them to begin building a second source
Confused by so many different options available and think that trading is very complicated
Experience difficulty in setting up technology
Marcus Tay is also revealing the solution Rocket Method™ that helped him and Others build an additional source for the past 19 years. 
✅ Most Ideal, Reliable & Affordable Choice to Build a 2nd Income Source. Why S&P 500 Index Futures is the choice compared to other instruments.
✅ Be Free from Market Manipulation. The Index is Regulated, Fair and Lesser Chance for Manipulation by Market Makers. It is Highly Transparent.
✅ It Is Profitable in Rising or Falling Markets. S&P 500 Index has good volatility and daily range so you can profit from any direction.
✅ Multiple Opportunities. How using *Volume Charts* makes it possible to have multiple opportunities to enter a trade within 2 hrs of trading from 930-1130pm GMT+0800.  
✅ Build a Successful 2nd Income Source made simple with our 3 Steps "REP" System. Risk Management to protect your capital. Edge providing high probability trade setups. Winner's Psychology for long term success. 
✅ Be Spot-On about the Market Trends and Direction. Why you need to master Price Action method.
✅ Saves you Tons of Time. Why Rocket Method™ saves you tons of time as there is NO NEED to market research, keep up with news or learn complicated technical indicators. Just Focus on 1 Index.
✅ A Demo using Rocket Method™ to enter and exit a trade! (Must Catch This!) 
Free Bonus Ebook For Workshop Attendees! Selling on Amazon for $27
 FAQ
faq1 : What makes Rocket Method™ Workshop different from the others?
We are the ONLY workshop in Singapore that is going to show you the Power of *Volume Charts* to create multiple & safe opportunities for you to profit within a 2 hours time frame where each trade typically starts and ends within 10 Minutes!
faq2 : I have never traded before and am completely new. Will this work for me?
Absolutely yes. Our specialty is to guide beginners to trade S&P 500 Index safely & profitably. It is best to have an open mind and clean slate (no experience), so that we can program you with the right accurate methods from the start.
faq3 : I am already an experienced trader/investor. Is this workshop suitable for me?
We received lots of positive feedback from veterans traders/investors that after they attended our workshop, they were made aware & pleasantly surprised by the new ideas we shared in our workshop. So yes, there is ONLY ADVANTAGE and no harm to adopt another method.
faq4 : What time does the registration start?
10 minutes before the specified timing so do turn up early.
faq5 : Do you have another date and time for the event?
Not at the moment. If you can't make it for this event, you can still register first, and we will update you when we have similar events in the future.
A word from Marcus Tay, founder of Concept of Price Trading established since 2007 and featured in :
Dear friend, 
Are you tired of long work hours, sacrificing your home life as well as any other dreams you might have, only to feel that you are no further ahead than you were a few years ago?  
For many years, I kept searching for a way that I could work less and spend more time with my young family back then. It was only through trading that I finally achieved my goal. 
For the past 18 years, I've been privileged to teach my simple trading strategies to hundreds of individuals from diverse backgrounds such as retirees, homemakers, institutional traders, and engineers. Although many of them have no background in trading, but many are now trading successfully and consistently. 
What I learned from my experience and that of others is that it is a thin line which separates those who are average, from those who end up at the top of their game. The thin line over which you step to greatness is your ability to recognize opportunities while others just sit on the fence. Whatever your calling in life, you will benefit from the strategies and techniques which have allowed me and countless others to generate the kind of success that can help you achieve everything you want in life.  
Don't be the kind of person who has dreams which will never come true. Be that person who dare to step out and take action towards his best life yet. 
To Your Success,
Marcus Tay
If you cannot view this email, please click here.
Connect with us via Social Media
Linkedin : https://www.linkedin.com/company/concept-of-price-trading
Facebook : https://www.facebook.com/conceptofprice
Instagram : https://www.instagram.com/conceptofpricetrading/
Youtube : https://www.youtube.com/conceptofpricetrading
Website : https://www.conceptofprice.com/
Pinterest : https://www.pinterest.com/conceptofprice/
About Concept of Price
Concept of Price was established in Singapore April 2007, with the focus of helping ordinary individuals successfully create another source of income, to achieve financial freedom for themselves. We have trained more than 1,700 students, and many of them are now successfully creating a 2nd source of income without spending more than 2 hours a day. We have been featured in the sell-out book "Asia's TOP Investments & Franchise To Make Your First Million". To read more about us, visit our website here.  
About The Trainer
Chief Futures Trainer, Marcus Tay, started out as a financial advisor and continued for 10 years. As his business grew, he found himself seeing his clients more often than his family. That was when he decided to make some changes and started trading part-time. Marcus became a Full-Time Professional Futures trader in 2003, and is now spending quality time with his family, living life exactly the way he wants. Marcus is well liked for his down to earth, simple and humorous style and sought after for his in-depth knowledge of Price Movements, Trend Reading and Scalping. His trading success has gotten him invited to speak at several forums and trading clubs, including the Options Trading Club in Singapore.  
Comments from our Members:
"My best night yet is 5 out of 5!I'm amazed to see how I've progressed so far. Now I'm doing better in this than any other instruments. I'm a total convert!"
Francis Ng, Analyst
 "Technique is pretty simple and straightforward. Importantly it works."
Eric Chia, Manager
"Price Rhythm rules are clear and conscise, the method to enter and exit trades has been made easy."
Phil Mulhull, Retiree
"I have never traded before this workshop but the strategies Marcus introduced are so simple and mechanical, I didn't feel disadvantaged at all. I have already started trading live and am consistently winning."
Kat Tan, Marketing Manager
"COP truly delivers what it claims. On my part, just abide by the rules and keep simple with 2 strategies."
Grace Neo, Home Maker
https://www.conceptofprice.com
Copyright 2020 Concept Of Price Trading Pte Ltd. All rights reserved.