Need help to find your voice and express your thoughts? Are you aware of the Public Speaking Master Class World Tour? Now Online and FREE.
About this event
What's Stopping You From Being a Public Speaker? Answer: Nothing!
Do you need help in finding your voice and expressing your thoughts?  Get Started Here
Are you aware of the FREE Public Speaking Master Class World Tour, by the World Champion of Public Speaking, Manoj Vasudevan, CEO of Thought Expressions?
Now Available Online For You For FREE.
Register here or at https://www.nervoustofabulous.com/
Is this Foundation Course for you?
Are you playing small at work?
Have you experienced a lack of confidence in critical situations?
Do you get nervous in front of people with authority?
Do you have difficulty in getting others to accept your ideas?
Do you face difficulty in talking to others at networking events?
Do you struggle to express your thoughts with the right words at the right time?
Are people with lesser qualifications getting ahead of you?
What's inaction costing you? There is a better way!
Attend this Free Course to Find Out how you can bulletproof your career with more Confidence, Presence, and Influence
Competence is Important. Confidence is Paramount.
In this Master Class led by Manoj Vasudevan, globally recognized Next Level Leadership Readiness Expert and Number 1 Award winner at World Championship of Public Speaking will share with you sure-fire techniques that will transform your career, business, and life.
You will pick-up kickstart practical strategies for personal mastery and enhanced self-confidence. 
Learn practical and professional tactics and techniques for confidence-building, executive body language, executive voice, persuasion and public speaking that you can put to immediate use. 
Learn the insights to speak for passion, profession, and profit. 
Learn how to organize your thoughts and convey them confidently without notes or preparation. 
Learn how to attend networking events oozing with confidence and speaking confidently to people in authority.
This Master Class is part of the CSR initiative of Thought Expressions to make essential life skills available to those who need then the most. Our Mission 20 Million, aims to help 20,000,000 people around the world to get to their next level in public speaking and leadership.
Self-Paced Learning.
Register early and start now.
Come ready to take lots of notes.
Put ideas into action.
Post your comments in our community membership site.
 In this Master Class, you will learn
Why people don't listen to you or accept your ideas
How to sell yourself before you open your mouth
Learn how to get others to listen to you
Learn how to get others to accept your ideas
Dispel popular myths about public speaking and communication
LIVE coaching demonstration to overcome the fear of public speaking
Learn a sure-fire technique to organize your thoughts clearly, confidently, convincingly
Tips, techniques to project confidence, positive body language and stage presence
Demonstration, practice, and feedback
Follow-up field work to deepen your learning
Ask Manoj Anything via community membership site
Get special invites to live challenges and programs
LIVE in Singapore. To check details and register, visit https://www.nervoustofabulous.com/ OR
Please share this information with your friends, family, and colleagues so that it benefits someone who needs it the most.
Brought To You By Thought Expressions.
P.S. Access is available for FREE for a limited time. Register early and complete the program before offer expires.
Register here or at https://www.nervoustofabulous.com/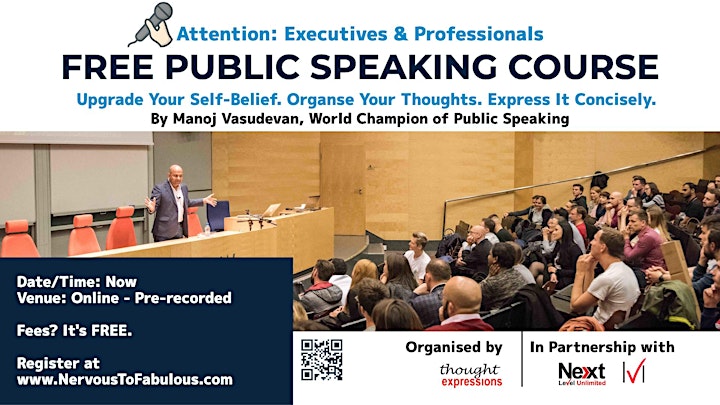 Organiser of World Champion's Public Speaking Master Class for Executives & Managers
We Help You Become a Better Speaker, Leader, Influencer – No Matter Where You Start! Our global mission is to encourage and enable individuals like you to have bigger impact in the world with your profession, purpose or passion by becoming the leader others admire and follow with delight. We coach starters and masters. Our team of globally-recognised World Class Experts stay ready to make your mission possible!.
Led by Manoj Vasudevan. Manoj is a world renowned Next Level Leadership Readiness Expert, the World Champion of Public Speaking and the author of international bestseller Mastering Leadership The Mousetrap Way and How to Become The World Champion of Public Speaking. He is the CEO of Thought Expressions and holds an MBA from Imperial College, London.