WOW-Women On Web Conference

Monday, May 30, 2016 from 8:00 AM to 11:00 PM (Malaysia Time Malaysia (Kuala Lumpur) Time)
Event Details
WOW-WOMEN ON WEB-LEVERAGING ON E-COMMERCE FOR GLOBAL BUSINESS PRESENCE
Calling all serious entreprenuers who are allready in the online business or interested to be in the online business. 

(Organised by WENA but open to all genders)
 Warning:
THIS COULD CREATE MASSIVE TURNING POINT IN YOUR LIFE!!
You can stay in the rat race OR break free and create that fulfilling &
WEALTHY LIFE you've always wanted!
 YOU CHOOSE & EXPLORE THE POTENTIAL.....…
The Women Entrepreneurs Networking Association (WENA) is organizing a conference to enable entrepreneurs especially women, and men to:

# Be inspired by successful entrepreneurs who started a or migrated into on-line marketing channel – from Off-line to On-line(O to O) vice versa
# Learn from Experts to clearly understand how to do transact with impact
# Learn how to optimize your user interface and user experience through your online pages/media
# Learn impactful strategies to write persuasively, advertise and build your on-line campaign
# Get tips from your courier and logistics companies to maximize your delivery more cost effectively


This could be your answer to:
How YOU Can Create Multiple Streams of Income

Quit Your Job & Earn a Good Income From Home

An Extra 5-Figure Income to Do Things You Love

Endless Possibilities For YOU & Your Loved Ones

Leverage on e-commerce for Global Business Presence.
Who should attend?
You who want more income, more time freedom, more choices in life
You who want to bring your business into online e-commerce

You who want to create a home-based business
You who want to explore changing career
SEATS ARE LIMITED!  Reserve your seat(s) early to avoid disappointment!
THE TICKETS IS FULLY FREE IF YOU REGISTER VIA THIS EVENTBRITE LINK.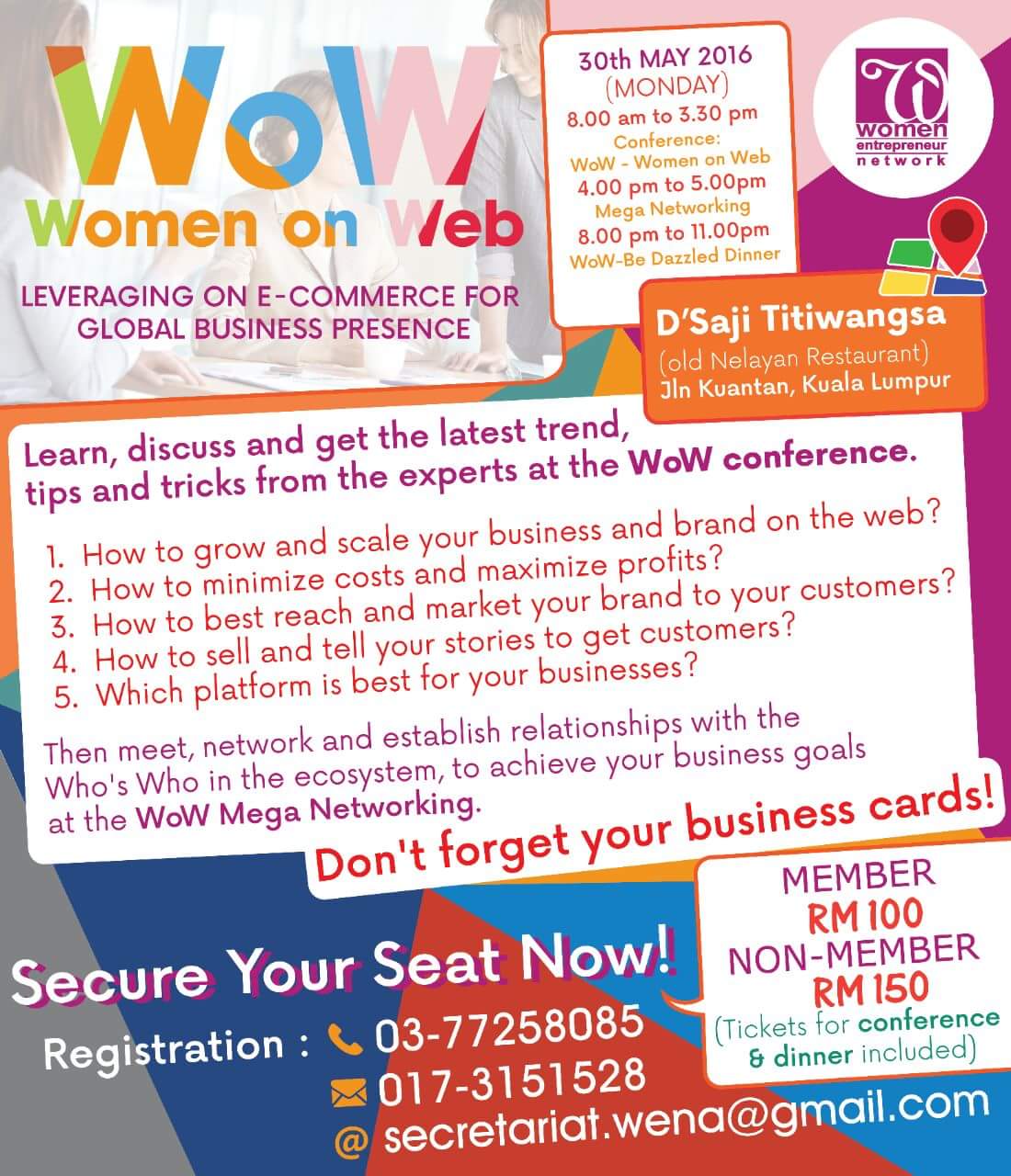 You are cordianlly invited to attend WOW-WOMEN ON WEB-LEVERAGING ON E-COMMERCE FOR GLOBAL BUSINESS PRESENCE organised by Womens Entreprenuer National Association (WENA). Programs consists of as follows:
1. E-Commerce conference

2. Mega networking and
3. WENA Dinner  (to get a FREE entry to WNA Dinner, participants must register and attend the E-Commerce Conference - all events are FREE but must come for program no 1 to be allowed to attend the dinner)

1.CONFERENCE TOPIC: WoW-Women On Web - Leveraging on E-Commerce for Global Business Presence.
#Time: 8.00am to 3.30pm
# Dress Code: Business

2. MEGA NETWORKING
#Time: 4pm to 5.30pm

WENA DINNER:
THEME: WOW BEDAZZLED
#Time: 8pm - 10pm
#Dress Code: Classic Glam
Details of itinerary can be seen in this link : http://bit.ly/1XVMJai
NORMAL TICKET PRICE:
1. Conference & Dinner
    ♧ RM100.00(Member)
    ♧ RM150.00(N/Member)
THE TICKETS IS FULLY FREE IF YOU REGISTER VIA THIS EVENTBRITE LINK.
REGISTER NOW & BOOK YOUR SEAT BEFORE IT'S TAKEN UP!

Seats are  VERY LIMITED.
However, please REGISTER ONLY IF YOU CAN COME. Please do not register if you not able to come as to allows others that can genuinely come.

Upon registration, please contact below to confirm your seat as its on first come first serve.

1. 017 3151528 Farida
2. Email: secretariat.wena@gmail.com
SEE YOU SOON!
---------------------------------------------------------------------------------------------
When & Where

D' Saji Titiwangsa (ex Nelayan Titiwangsa)
Lot 143, Seksyen 87
Jalan Kuantan
Kuala Lumpur, Kuala Lumpur 53200
Malaysia

Monday, May 30, 2016 from 8:00 AM to 11:00 PM (Malaysia Time Malaysia (Kuala Lumpur) Time)
Add to my calendar
Organizer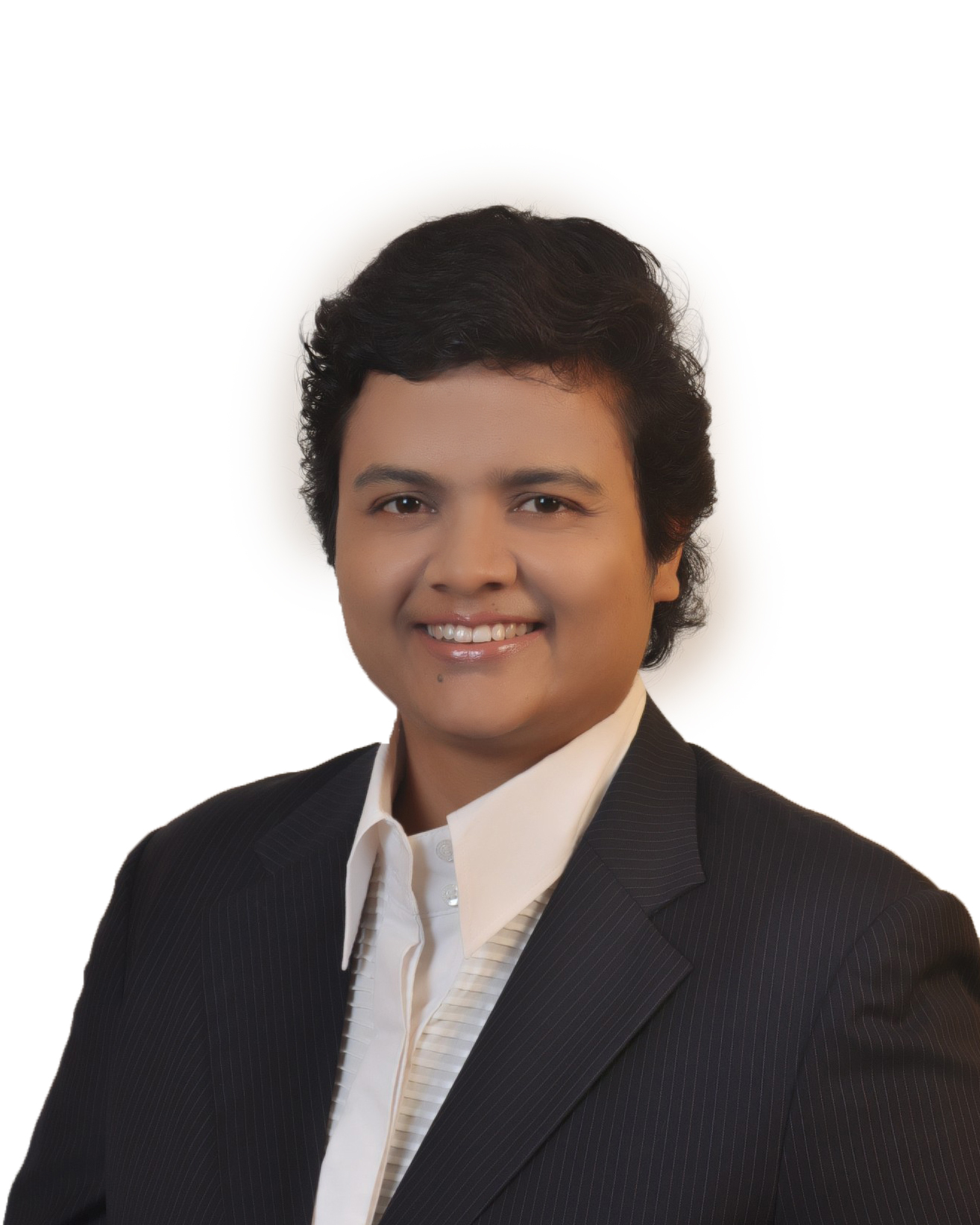 Kartina Abdul Ghani, holds a BBA, UiTM and Executive Diploma in Engineering Business Management (Project Management), UTM & Professional Diploma in Internet Business & Media Social, OUM. She is also a Certified Professional Intellectual Property Manager, MIM and has conducted various workshops since 2006. She is a certified HRDF Trainer since 2014. She now operates and conducts all her workshop from her own Trailblazer Success Training Centre situated in Desa Melawati, Kuala Lumpur.
Since 2013, she has trained more than 2000 new mobile apprenuers who attends her FREE Mobile Apps Workshop throught out Malaysia between 2013 to 2015. Currently she operates under Trailblazer Mastery in conducting proven mobile apps workshop to entreprenuers and inviduals who do not even need to have IT knowledge to create mobile apps using her 3 simple techniques that is guaranteed.
Kartina continues to publish apps to achieved her own daily passive income target. She has published more than 300 apps into Google Playstore and Apple ITunes Store. She kept hereself up to date with latest trends in Mobile Apps by attending many professionals workshop organised by Google and others. She is very focus on creating and publishing her own mobile apps and training new mobile apprenuers.
WOW-Women On Web Conference