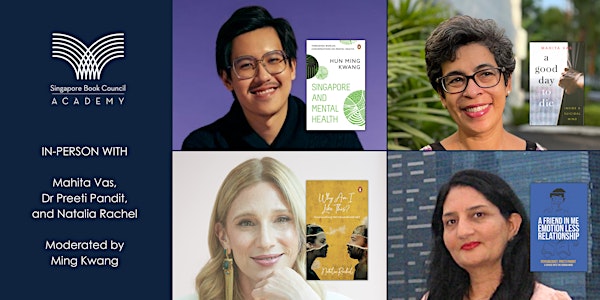 Writing & Well-Being: A Journey Through the Mind and Pen
A panel discussion aimed at exploring the relationship between writing and mental health.
By Singapore Book Council
Date and time
Thu, 9 Mar 2023 19:30 - 21:00 +08
Location
Goodman Arts Centre 90 Goodman Road Block E, #03-32, Singapore Book Council Training Room *Please note that there is no lift access to the Training Room Singapore, 439053 Singapore
About this event
Promotions
40% concession* rates for students and seniors
20% off buddy tickets (min 2 tickets)
20% off past participants of SBC Academy**
10% off for Kinokuniya Privilege Card members**
*Participants will have to present their student pass or senior citizen card on day of talk for verification purposes.
** Request promo code via email to programmes@bookcouncil.sg
Synopsis
A panel discussion that brings together experts from various fields to delve into the relationship between the written word and well-being.
Understand the power of storytelling and how books and writing can be used to challenge the stigma surrounding mental health, promote empathy, and foster a greater understanding of the human experience. Gain insights into the research and writing processes that go into creating a comprehensive and informative book on mental health, as well as the roles and therapeutic benefits of writing in promoting well-being.
With a blend of expert perspectives, personal experiences, and practical advice, sit with our speakers to explore the connection between writing and well-being.
About Moderator
Hun Ming Kwang is an internationally recognised spiritual teacher, professional artist, social healer, life coach, and community leader. He is relentless in his mission to illuminate individuals to their deepest truths, callings and authentic selves, helping them awaken and harness their power to actualize their lives at their highest creative potential. Today, he has helped over 10,000 individuals transform their lives and attain a higher level of awareness.
His works include his series of books on Conversations on Mental Health. Consisting of 4 volumes, the books are titled "Stories We Don't Tell", "Growing Pains", "Weaving Between Light and Shadows, Said and Unsaid", and "Singapore and Mental Health".
About Speakers
Mahita Vas has written four books, including Praying to the Goddess of Mercy, a ground-breaking memoir on mental illness. As a mental health advocate, she speaks candidly about mental health. She is also a volunteer with Transient Workers Count Too. When she is not writing, she spends most of her days immersed in novels. Mahita is married and has twin daughters in their early thirties.
Natalia Rachel brings an amalgamation of knowledge from years working as a therapist and clinic director with a focus on trauma & abuse recovery, as well as her own personal journey recovering from mental health misdiagnosis and physical health conditions that stemmed from childhood trauma. She currently has a focus on social impact and culture transformation via keynote speaking, consulting, and teaching her flagship leadership program 'Trauma-informed Human' around the world. Her goal is to bring trauma work to the mainstream and bridge the gap between mental health, diversity equity, inclusion, and human sustainability.
Dr. Preeti Pandit have treated clients in therapy who've overcome immense inner darkness and life obstacles to rise above their circumstances and lead lives full of joy, connection, and vitality. As a psychologist, she observed countless lives that do not heal because there is not enough awareness about the subject or because of lack of access to mental healthcare. 'A Friend in Me Emotion Less Relationship: A Voyage into the Human Mind' is her first book.
Cancellation:
The talk can be cancelled or postponed two weeks before the talk date if the minimum number of participants is not met. Participants will be fully refunded for talks cancelled by us.
Participants who are unable to attend a talk they have registered for are to inform us of the reason two weeks before the talk date. They will be fully refunded in the event of extenuating and mitigating circumstances (E.g. illness, bereavement, accidents) . Those who inform us up to 5 working days before the talk date will receive a 50% refund. Those who did not turn up at the talk will not receive a refund.
Upon registration, you are deemed to have read and understood the cancellation and withdrawal policy and accept the terms contained therein.
Please note there is no lift to the venue.
About the organiser
Singapore Book Council (SBC) is a charity founded in 1968. Its vision is to Build Our Imagine-nation by developing creativity, imagination and original thought through writing, reading, illustrating and storytelling. Its mission is to fulfil this vision through books and literary art events, workshops, and awards, because it all starts with a story.
 Support the Singapore Book Council!
As an independent charity with IPC status, the Singapore Book Council relies heavily on individual donations to help us promote a diverse, multilingual Singapore literature. Please donate to us so that we can organise more events like this, especially during this challenging time: https://www.giving.sg/singapore-book-council-limited