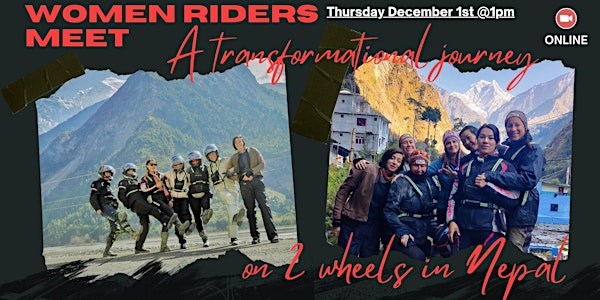 WRM: A transformational journey on 2 wheels in Nepal
Thinking of joining our socially impactful women's motorcycle tour in Nepal next year?
About this event
Join us on December 1st at 1pm (GMT+8) with the very first participants who took part in it this October to hear about their personal journeys. You will have the occasion to ask all the questions you may have and watch some snippets of this life-changing road trip!
Not only did they make it happen, overcoming their own personal fears and self-limiting beliefs, but we are also extremely happy to have invested 1300 euros in Nepali women, thanks to this motorcycle tour.
This includes our spendings at the 7 Women NGO's boutique hotel, the 150 reusable sanitary pads distributed in the Tharu community, the cooking experience and lunch with the Thakali women at the Thini village, the dances with the Gurung women of Dhampus, and Yurbisha's training as a motorcycle tour guide.
Register here for free (Recording will be sent to those who can't attend LIVE): https://www.eventbrite.sg/e/wrm-a-transformational-journey-on-2-wheels-in-nepal-registration-465548717747
IMPORTANT NOTE: We changed the time to allow all participants to take part. It will be at 1pm in South-East Asia (GMT+8), i.e. 6am Central Europe time (GMT+1) and 9pm on Wednesday 30th November in the USA West coast (GMT-8)
You will also have the opportunity to connect with fellow women riders and aspiring riders from all over the world :-)
Any donation made through this event will be used to sponsor women's motorcycling training.
About the participants:
Annie, Ellen, Sabrina, Sandrine, and Kerstin are all coming from different nationalities (French, American, German) and different age groups (from 35 to 58) but they all have one thing in common: a passion for motorcycling and desire to encourage other women along their 2-wheeled journey called life.
Annie dreamt of Nepal and encouraged her friend Sandrine to join our tour, without really knowing what to expect. While it has been a real challenge, she never gave up and always got back on the bike with a smile. A real source of inspiration for us all.
Ellen was one of the most anxious to join our Nepal tour and couldn't sleep the night before we hit the road, yet she discovered how skilled she was, even off-road! She realized her false beliefs were just self-limiting and that fear wasn't a good enough reason to give up!
Sabrina got her riding license in Singapore only 2 years ago and had postponed her participation to "Meet the Women of Nepal on 2 wheels" a few times, not feeling confident she had the necessary off-road skills. Yet she didn't fall a single time and amazed us with her bold riding!
Sandrine was too busy to check any details before the tour and totally trusted Annie, so you can imagine her face when we started the off-road section on the first riding day! With very little riding experience and an E. coli infection, she nonetheless kept her humor intact all the way and showed determination to ride as much as she could.
Kerstin took part in this ride as a support partner with her company Bike'N'Soul. She knows Nepal and speaks Nepali perfectly, and is a very experienced rider. Yet, taking a group of women to Mustang is extremely different from riding solo in the Terai! But this experience certainly triggered many new ideas for her tours…
You will hear directly from them what they experienced and be able to ask all questions you may have!
Agenda (GMT+8)
1pm-1:05pm: Welcome and intros
1:05pm-1:15pm: Presentation of the participants
1:15pm-2:15pm: Q&A led by Crystal and videos/ pictures sharing session
2:15pm-2:30pm: Q&A session with participants