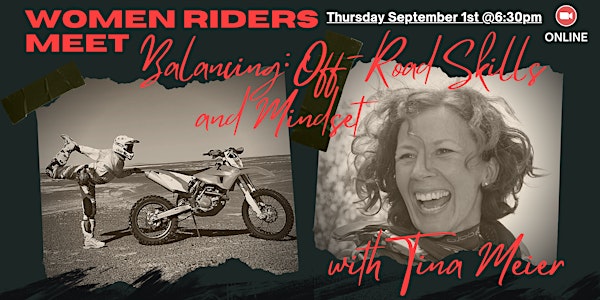 WRM: Balancing Off-Road Skills and Mindset with Tina Meier
Life is like riding a motorcycle: To keep moving, we must keep our balance. Tina will show us how, using off-roading skills!
About this event
Tina Meier is a dirtbike, business and yoga coach. She started 4 Dakar and finished 3rd woman in 2010. She's also organizing enduro tours for adventurous women in Morocco! Join us on Thursday 1st September at 6:30pm (GMT+8) to get first hand experience of her unconventional approach to dirt bike riding and get yourself pumped for an off-road adventure!
You will also have the opportunity to connect with fellow women riders and aspiring riders from all over the world :-)
Any donation made through this event will be used to sponsor women's motorcycling training.
Register here (Recording will be sent to those who can't attend LIVE): https://www.eventbrite.sg/e/wrm-balancing-off-road-skills-and-mindset-with-tina-meier-registration-396441927477
About the speaker:
Tina Meier, 50, has been working for more than 25 years as an auditor for the Internal Revenue Service in Hamburg, Germany. Her wild soul took her to the Rally Dakar and she made her dream come true when she finished the race on a motorcycle in 2010.
The Rally Dakar is one of the world's hardest marathon off-road rally. 14 days, 10.000 kilometers, 12-14 hours riding per day. Only half of the 180 motorbike riders manage to reach the finish line. In her third attempt Tina Meier completed the race as one of three women in this male dominated adventure.
She now also works as a dirt bike instructor, yoga teacher and business coach. As a Challenge Facilitator she is empowering her clients with lectures, workshops and training to discover their own success-factors and experience their own success-stories. She helps her clients identify their roadblocks and find ways to circumvent them with more trust in themselves, and stronger self-confidence.
Agenda (GMT+8)
6:30pm-6:35pm: Welcome and intros
6:35pm-6:45pm: Breakout rooms- Let's get to know each other
6:45pm-7:40pm: Getting started off-road with Tina
7:40pm-7:55pm: Q&A and Quiz
7:55pm-8pm: Wrap up