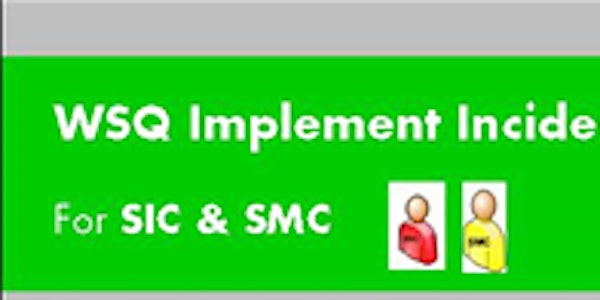 WSQ Implement Incident Management Processes (PI-PRO-325E-1) Run 212(Online)
WSQ Implement Incident Management Processes - incident management course for those taking up SMC & SIC roles in the CERT. Online course.
Refund Policy
Contact the organiser to request a refund.
Eventbrite's fee is nonrefundable.
About this event
WSQ Implement Incident Management Processes (PI-PRO-325E-1)
    Incident Management Training suitable for SIC & SMC
Overview of Course
This course is designed to equip participants from various industries with CERT team with skills and knowledge to manage their incidents effectively at their premises as a Site Incident Controller (SIC) or incident leader.
This is also a WSQ module accreditated by SkillsFuture Singapore (SSG) (previously known as WDA).
Aim of This Course
This competency unit covers the skills and knowledge required by the person in charge of a facility to implement the incident management process during an emergency incident in a process facility. This unit covers the approach, structure, tools, processes, communication methods that can be utilised during an emergency incident.
Who Should Attend?
This course aims to provide people already workin in the process industry with the skills and knowledge required to Implement Incident Management Process. It is targeted at individuals who are currently supervisors or senior technicians from all sectors such as:
Process Industry
Construction Industry
Hospitality Industry
Retail Industry
Healthcare Industry
Commercial Industry
The competency unit would be appropriate for those with operational responsibilities.
Course Objectives
Interpret incident management approach and structure to ascertain the scope and severity of the emergency.
Utilise incident management areas and processes to implement emergency response strategies.
Utilise appropriate communication methods when management an incident to control all internal and external resources.
Control and maintain incident management process to assess information on status of the emergency.
Undertake post emergency evaluation and debrief.
Course Content
1. The implications of statutory and organisational requirements.
2. Standard operational requirements.
3. The value of a well written Incident Management Plan.
4. The functional approach to Incident Management.
5. Characteristics of the plant, equipment and facility and associated facilities during emergency situations.
6. Importance of maintaining effective communications (fixed or mobile) with relevant personnel (supervisors, operators, etc).
7. The roles and responsibilities of Incident Management Team members.
8. Command and control principles and techniques.
9. Types of Incident Management tools and resources.
10. Types of appropriate emergency response equipment.
11. Incident mitigating and suppression techniques and strategies.
12. Transition from mitigation operation phase to recovery phase.
13. Emergency response evaluation and debriefs.
14. Identification and communications to relevant stakeholders and government agencies.
Time: 9.00am to 6.00pm ( 1 day)
Accreditation: WSQ Advanced Certificate Module / SCDF: 10 CPD points / SISO: 7 points
Course Funding (available only for Singaporeans and PRs only):
Kindly refer to the following course link for more details in funding: http://www.certcg.com/wsq-implement-incident-management-processes-1-day/
FAQs
What do I need to attend this class?
As this will be conducted online, you will require to have the following:
Equipment needed for the online class: Computer or laptop is preferred or a Mobile device and Internet connection
Access to Google Account
Zoom
A working cam as the whole session will be recorded and you need to show you face via the cam throughout the whole session
 Where can I contact the organizer with any questions?
You can contact the administrator at admin@certcg.com. Details of the course will be forwarded to you upon successful registration.
Is my registration transferable?
 Your registration can be transferred but you will have to inform the Administrator at admin@certcg.com at least 7 working days in advance.
What is the refund policy?
 The Company does not refund but you are allowed to transfer your seats. Please give notice of at least 07 working days.
The name on the registration doesn't match the attendee. Is that okay?
 As Certificate will be issued upon completion of this training, please ensure that your details are correct.
Why do I need to submit my personal details for the course registration?
 As these details are collected by SSG upon successful completion of this training for issuance of certificate, please ensure that your details are correct.As any inaccurate data submitted will incur additional fees for any re-print.
Will this session be recorded?
According to SSG's requirements, all online training session must be recorded adn be kept for 3 years after the completion of the course. All trainees must turn on their video cameras throughout the full training session for the purpose of the recording.
Request for Trainee's Personal Information for Participation in SSG Training Quality and Outcomes Measurement Surveys
Please note that the Personal Data Protection Act (PDPA) allows for the disclosure of personal data without consent to a public agency if such disclosure is necessary in the public interest. This is in accordance to the Fourth Schedule, Section 2, 17(3) and 21(4) of PDPA which states:An organisation may disclose personal data about an individual without the consent of an individual in any of the following circumstances:(d) The disclosure is to a public agency and such disclosure is necessary in the public interest
 Your submission of details to the training provider will facilitate the implementation of SSG's TRAQOM surveys. Should you require any clarification, please contact our SSG-appointed vendor, Azaas Pte Ltd, at 800-852-3869 or email them at traqomsupport@azaas.com