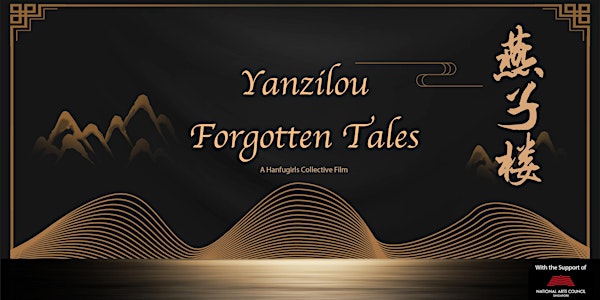 Yanzilou: Forgotten Tales
Enter the metaverse, and time travel to the ancient Chinese Tang Dynasty with an interactive evening with the Courtesans
Refund Policy
Contact the organiser to request a refund.
Eventbrite's fee is nonrefundable.
About this event
Beyond the smoky incense halls
Beneath their silken shawls
Rest their stories
Lost in wars...
Main Language: English (some poems or songs which are in Chinese will be captioned)
Duration: Approximately 1hr 15mins (we recommend setting aside 2hrs for a more complete experience)
Prepare yourself for a new form of tourism in the post-covid world--Time Travel.
Dates: 16 to 31 December 2021 (Patrons may attend this event virtually anywhere, at their own timezone and revisit to explore the entire experiences multiple times)
With hundreds of different paths, which would be your unique Ancient Chinese Entertainment House experience?
In 2021, a group of modern travellers joined a tour to the Stamford Arts Centre, a newly opened performing arts centre which was originally a Japanese Elementary School. The centre has been repurposed and revamped to incorporate an aesthetic closely associated with the Japanese--red frames and ginkgo leaf motifs, and a place filled with the wondrous sounds of music and dance. Unwittingly, this opened up a portal to an ancient Tang dynasty courtesan house.
You see, Tang dynasty culture had greatly influenced the Japanese in the 7-10th century. The aesthetics of Red pillars against Green (complimentary colour combinations), and the Ginkgo leaf motifs are just some examples of this. The Courtesan houses of Tang were the birth place of poetry, music, dance and many different artforms that fused the East with the West. They bore witness to the artistic creations of famous artists and poets of the period, and were instrumental in the development of the Song lyric-poetry subsequently as well.
Run exclusively by women, the courtesan houses of Tang had very strict rules on patronage and relationships. Something modern minds might find difficult to grasp--it's not about Sex.
The stories of these courtesans and their artistic legacies were forgotten with the passage of time, and they were mistakenly identified as prostitutes by people of later ages.
Yet some fragments of their stories, music, and dance survive in the dreams of these courtesans, through time and space. The story of Yanzilou, is the story of the fate of these talented and educated women, and the story of the rise and fall of the Tang dynasty.
This is the first time that a Chinese historical music and dance performance has been intrepretated into an interactive film medium, with snippets of historical knowledge and an immersive 360 degree dance experience along the way. Once you enter Yanzilou, you would never wish to return to where you came from.
The experience is available from 16 to 31 Dec 2021.
Please note that all tickets sold are non-refundable.
With the Support of National Arts Council, Singapore.
Ticketing tiers:
Early Bird ticket (16–30 Nov) S$18 Pre-Event ticket (1-15 Dec) S$24 Late Bloomer ticket (16-30 Dec) S$30