Sales Have Ended
Registrations are closed
Sorry, our workshop is now full! You would still be able to join our waitlist so that we can reach out to you if we have additional spaces. Thank you for your interest in our workshop! You can also join our mailing list to receive information about our events here: http://bit.ly/signupymc
Sales Have Ended
Registrations are closed
Sorry, our workshop is now full! You would still be able to join our waitlist so that we can reach out to you if we have additional spaces. Thank you for your interest in our workshop! You can also join our mailing list to receive information about our events here: http://bit.ly/signupymc
This workshop aim to expose students to different careers to create self-awareness and motivation to work towards their goals.
About this event
YMC is proud to announce our fun-filled 3D Makers Workshop for the December holidays!
Join us for a thrilling time learning about 3D printing, 3D Design and more futuristic technologies that will excite you.
Get Excited!
As a participant, you will be expose to Engineering and its faculties via the use of CAD modelling and 3D printing manufacturing methods. It is conceptualised to cover both design and manufacturing related work in 3D engineering solutions.
You'll also get to engage with our friendly professionals to find out more about career opportunities in the industry. Topics would include future technologies, the transition from student to professional, the life of an engineer and how to stay relevant in the field.
The best part? You will participate in a mini-competition in which you can showcase and pitch ideas based on your newly found knowledge of 3D printing and CAD concepts. It is intended to give you a glimpse of the soft skills required in industry 4.0.
Special Guest:
Mr Sharael Taha
Grassroots Adviser to Pasir Ris-Punggol GRC GROs
Meet our Speakers:
Ms Azizah Sapari
Technical Consultant, Strides International Business Pte Ltd
Mr Ibnur Rashad
Founder & Chief Innovation Officer, GUILD
Sign up now to reserve your spot. Limited places available!
Date: Saturday, 4 December 2021
Time: 10 am – 4 pm
Venue: Pasir Ris Sports Centre, 120 Pasir Ris Central, Singapore 519640, Level 2 Hall
For: Any Malay/Muslim Secondary School and Madrasah Student
This event is organized by Young Mendaki Club and supported by M³@Pasir Ris-Punggol.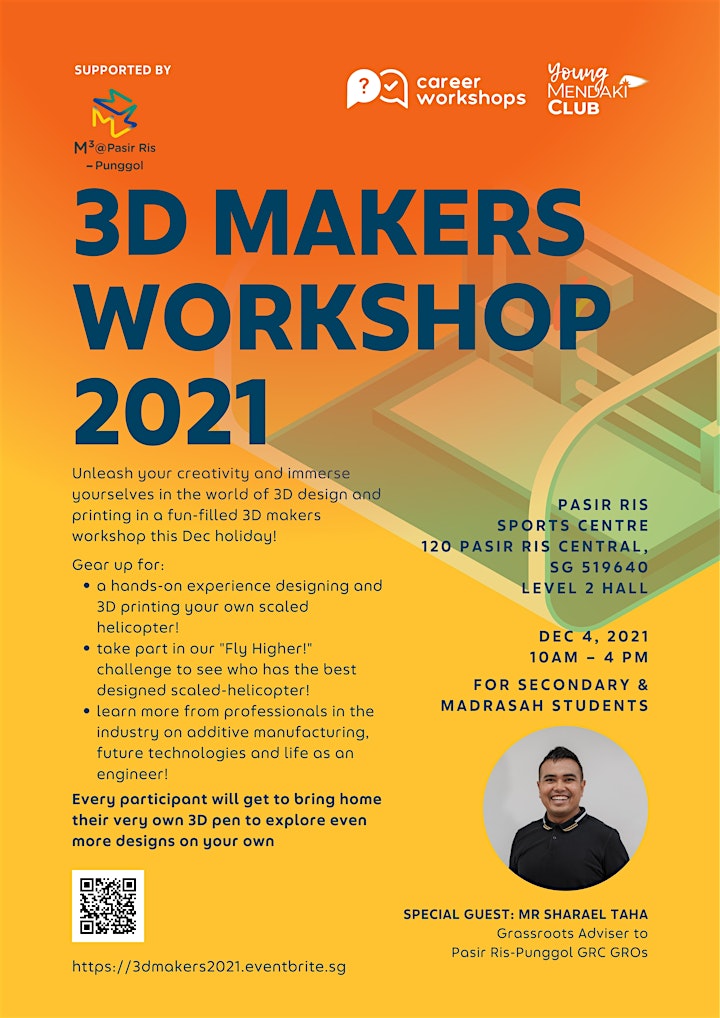 Organizer of YMC Career Workshop Series: 3D Makers
The Young Mendaki Club (YMC) is the youngest wing within Mendaki Club (MClub). YMC programmes are focused on current life context of the students and centered on nurturing holistic life skills, capacity building and personal development so that they could contribute positively to the society.