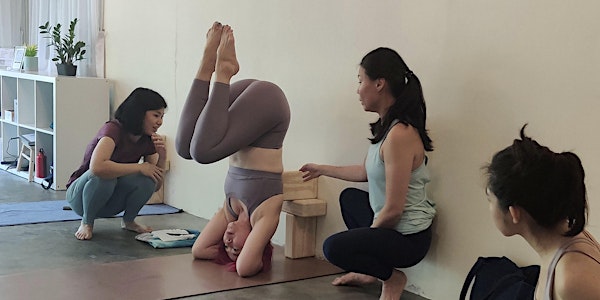 Yoga 101: Inverting Safely
Find a comfortable, confident, and safe practice of inversions to be included in your home practice through this 4-week workshop.
When and where
Location
Yoga Seeds 1384 Ang Mo Kio Ave 1 Bishan Park 2 Singapore, Singapore 569932 Singapore
About this event
Inversions are an important group of poses in yoga practice, and including them in your practice could make it more well-rounded and wholesome. In essence, any pose that places your head below the level of your heart can be considered an inversion. It can range from common poses like the downward-facing dog and happy baby to invigorating poses such as headstands and forearm stands.
Generally, inversions help to balance our lymphatic system, and boosts our immune system responses, while building core strength and confidence.
In this 4-week program, we will experience the magic and benefits of inversions safely. Led by the founder of Yoga Seeds, Wendy, this program will be focused on the foundations and basics of doing inversions safely.
Learn different ways to prepare, modify, and progress in the practice of inversions under the guidance of our instructors. Preparatory poses and modifications will be provided to suit each individual so that we can enjoy the physical, mental, and emotional benefits of inversions.
Together as a group, let us l overcome the fear of going upside down, and enjoy the process of seeing the world from a different perspective.
At the end of 4 weeks, we aim to help each individual find a comfortable, confident, and safe practice of inversions to be included in their home practice, without the risk of injury from poor alignment or lack of technical knowledge.
 Only 8 slots available, early bird ends 10 Sept 2021!
Sign up now at https://yoga101inversions.eventbrite.sg
Early Bird Rate: $280 (Ends 10 Sept 2021)
Standard Rate: $300
Suitable for those looking to start on inversions for own yoga practice.  
-----------------------------------------------------------------
Key highlights of the Program
- Overcome the fear of going upside down by progressively approaching inversion practice.
- Learn different ways to prepare and modify the practice of inversions.
- Build confidence and gain awareness of your body through the safe and conscious practice of inversions.
----------------------------------------------------------------
4-Week Course Details
Fridays 7.15pm - 9.45pm
For enquiries, email recharge@yogaseeds.com.sg or WhatsApp/SMS (65) 8322 1251.
----------------------------------------------------------------
IMPORTANT NOTES:
Only individuals who have fully completed the full regimen of your vaccination for at least two weeks, with valid proof of vaccination, may book and attend in-person classes.
The programme and event arrangements are subjected to change. Click here to view full terms & conditions.
# LIKE US & stay updated to all event updates via Facebook at https://www.facebook.com/YogaSeeds/
* Please come at least 15 minutes before class for registration.
* Please bring your own mats or mat towels.
Upon registration, more details will be sent to all participants.
To receive more event updates from Yoga Seeds, sign up on our mailing list at http://eepurl.com/bws-1P