Location
6 Raffles Boulevard, Marina Square #03-308 Singapore 039594
6 Raffles Boulevard
Marina Square #03-308
Singapore, 039594
Singapore
Cambodia Phnom Penh Real Estate Investment 3 Days 2 Nights Tour, Only $200! 柬埔寨金边房产投资3天2夜之旅,只需 $200!
About this event
3D2N Cambodia Phnom Penh Real Estate Investment Tour Seminar
Business opportunities in travel 🛫🛫🛫
Take a holiday and explore investment opportunities at the same time!
Meet in Phnom Penh, Cambodia for tourism and investment!
✈️ Self-paid roundtrip air tickets
⭐Pay only $200 all inclusive of:⭐
🏨3D2N hotel accommodation
🍱 Meals
🚌Transportation
Visit the Le Conde BKK1
🚦Freehold
🏨Cambodia's first smart home integration, multi-functional serviced apartment with 4 floors of facilities.
🏦Guaranteed 24% rental return over 3 years.
🤩Only from US$12X,XXX
💰Special Anniversary Promo now on!
October 2022 tour schedule:
October 8-10, 2022
October 15-17, 2022
Offline seminar schedule:
23 September 2022 7pm-9pm
1 October 2022 2pm-4pm
Location:
111, Somerset Road, #07-12, TripleOne Somerset, Singapore 238164
For more information please contact:
wa.me/+6596999926 CH Tan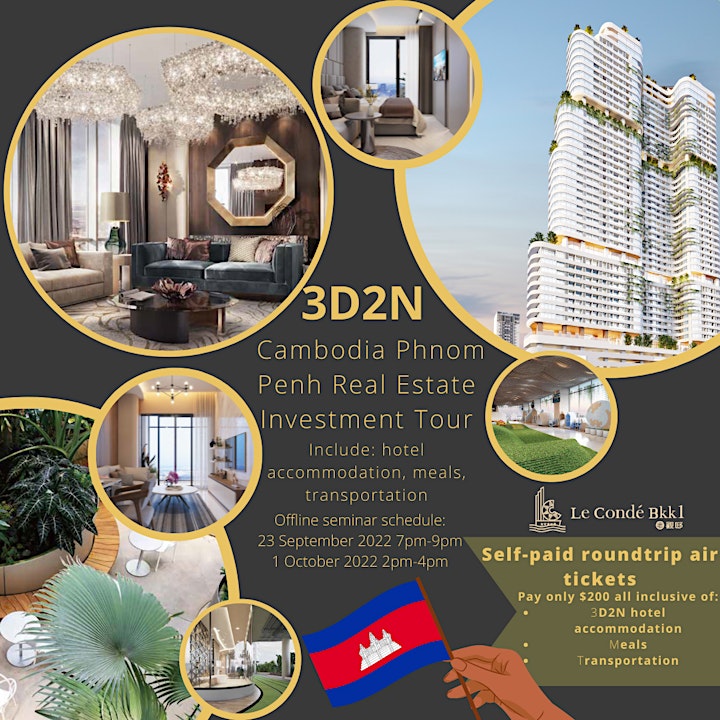 3天2夜柬埔寨金边房产投资之旅
旅行中的商机🛫🛫🛫
在吃喝玩乐中,遇见投资商机!
相約在金边,柬埔寨旅游以投资!
✈️自付来回机票
⭐只需 $200加,以下全包:⭐
🏨3天2夜酒店住宿
🍱提供膳食
🚌交通
参观觀邸
🚦永久产权
🏨柬埔寨首个智能家居集成,4 层设施的多功能服务式公寓。
🏦保证 24% 超过3年的租金回报。
🤩12万美元起
💰週年慶特別優惠現在開始!
2022年10月考察时间表:
2022年10月8-10日
2022年10月15-17日
线下说明会时间表:
2022年9月23日 7pm-9pm
2022年10月1日 2pm-4pm
地点:
111, Somerset Road, #07-12, TripleOne Somerset, Singapore 238164
更多信息请联络:
wame/+6596999926 CH Tan