Get from beginner to advanced with strong coding fundamentals and a progressive curriculum. Free trial to determine starting level.
About this event
Event details
For 12 - 14 y.o.
1 week long intensive sessions, Monday to Friday, 3 hours each day
Small learning group of 1:6 teacher-student ratio
Laptops and materials provided
Level 2 and Level 3 available upon completion of this level
Intakes
Pick an intake (09:30 - 12:30 or 13:30 - 16:30 available on these dates):
June 2021
21 - 24 Jun 2021
28 Jun - 2 Jul 2021
July - August 2021
5 - 9 Jul 2021
12 - 16 Jul 2021
19 - 23 Jul 2021 (AM intakes only)
26 - 30 Jul 2021
2 - 6 Aug 2021
Sibling discount
10% off for second sibling
15% off for third and subsequent siblings
Discounts will be refunded to you on your child's first day of class
Pre-requisites
Familiar with basic operations of a computer - simple typing, turning on/off
No / minimal prior coding experience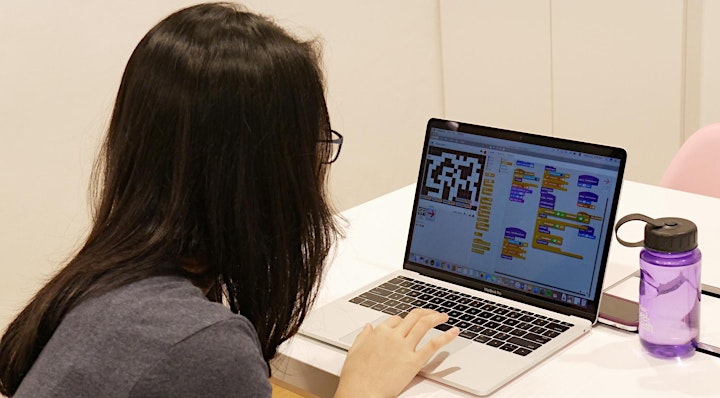 Image: Solving an AI problem with block-based coding. The Coding Fundamentals course is about more than coding - it is about learning how to think and solve problems.
Video: LCCL learner showcases a game he coded. The curriculum imparts concepts via projects that are engaging and relevant to students i.e. learn to code by creating animations, apps and games.
What do students learn?
This programme is part of the LCCL Core Curriculum, and its instructional design is guided by the LCCL Progression Framework. By the end of Coding Fundamentals levels 1, 2, and 3, the learner would have:
Attained a mastery of fundamental coding concepts
Applied computational problem solving strategies
Developed a portfolio of total of 22 - 27 projects including animation, games and apps
Coding Fundamentals Level 1 starts the beginner in fun and engaging projects where they code animations and games. Each lesson is scaffolded and learning objectives of each project build upon earlier ones.
Fundamental Coding Concepts
Introduction to code and computing technology
Sequencing
Event-based programming
Loops
Variables
Conditionals
Animation and Game Coding Concepts
Project design and planning
Storyboarding
Timing multiple sprites
Sprite communication
Computational Thinking and Problem Solving
Algorithms
Pattern Recognition
Decomposition
Evaluation
Add-on elective camps at a discount
Add-on assorted mini bootcamps at ridiculous fees. We do this because we want a lot of kids to have a lot of fun-filled, enriching quality learning from our curriculum.
Minecraft Coding for Teens with Java at $238 (U.P. $360)
3-day camp, 10am - 1pm
For 12- 14 y.o.
Machine Learning for Young Coders at $198 (U.P. $320)
2-day camp, 9am - 1pm
For 10 - 13 y.o.
FAQs
How do I know if my child is suitable for this?
Contact us for a free trial class. Our teachers will assess your child's suitability and advise accordingly.
How is LccL's camps different?
Our Coding Fundamentals curriculum is proven to produce students who are well-versed with code and computational thinking, as they are trained in-depth to code complex solutions. With strong fundamentals, graduates pick up other disciplines much faster and easier. As a gauge, most Level 3 graduates complete the Robotics and Python curriculum in half the time as one without foundational backing.
Is the class in-person?
This is an in-person class, held at LccL Coding Academy's flagship Tanglin campus. Contact us if you need an alternative.
How do I know more about LccL?
Check us out at LccLcoding.com or visit us virtually.
How do I contact LccL?
WhatsApp or call 6817 2957. Click here to WhatsApp instantly.
Organiser of Young Teens Essential Coding Fundamentals (Level 1)
The premier coding & computational thinking school in Singapore, formerly known as The Kid Coders. We offer classes for children and teens 5 – 18 years old. Our learners are supported by our four cornerstones:
(1) Led by team of highly experienced & distinguished computer scientists
(2) Strong focus on Computational Thinking, not just coding
(3) Fun & inspiring learning environment
(4) One of the longest track record