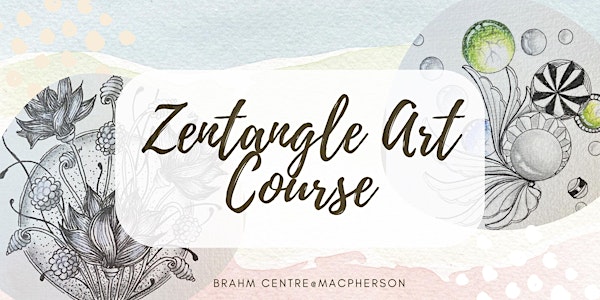 Zentangle Art Course by Samantha Lee - MP20221105ZAC
Allow ourselves to slow down and explore the mindfulness drawing method with Samantha Lee, CZT. Zentangle is suitable for all ages
When and where
Location
Brahm Centre @ MacPherson 55 Pipit Road #01-01 Singapore, 370055 Singapore
About this event
WHAT?
Zentangle Method is a series of simple practical steps designed to help us create beautiful art. It is all about simple strokes (dots, lines, curves, and orbs) and the repetition of drawing them over and over, focusing on just that. We will create art "one step at a time" without focusing on the outcome. It is an enjoyment where each stroke at a time helps shift our focus on every moment. You just need to know the steps which will result in a delightful surprise. In short, Zentangle art is non-representational and unplanned so you can focus on each stroke and not worry about the result.
The Zentangle Method is a combination of 'relaxed-focus' and art, that is perfect drawing style for anyone of any skill level. It promotes calmness and helps us to get out of our head, it also helps with fear of creating something that isn't perfect.  We learn to manage stress, focus, think positively through gratitude and appreciation and become resilient through no mistake philosophy, the Zentangle Method.
Drawing in Zentangle Method has been shown to boost self-esteem, promote relaxation and mental clarity, and open the channels of creativity.  Using the create side of our brain gives our mind and body a chance to decompress and relax, even just a few minutes a day can have huge benefits.  Regular practice of creating art can be nurturing for relieving stress, creativity, design skills, increasing confidence and supporting general wellness. 
It is a life skill that we could practice in our daily lives to achieve a calmer and joyous lifestyle and improve our health and wellness. Let's start your Zentangle journey, it is not just the Art you used to think of.
~ Life is an art form and each of us is an artist ~
Come and learn how to tangle with us.
WHO?
This course is suitable for everyone, no art background needed. As long as you can hold a pen, you have the ability to draw! "Anything is Possible, One Stroke At a Time ".
WHEN?
Saturday, 5 November - 1pm-3pm
Saturday, 12 November - 1pm-3pm
Saturday, 19 November - 1pm-3pm
Saturday, 26 November - 1pm-3.30pm
Saturday, 3 December - 1pm-3.30pm
Saturday, 10 December - 1pm-3.30pm
Saturday, 17 December - 1pm-3.30pm
Total of 7 sessions
*No class on Dec 24 (PH)
WHERE?
Brahm Centre @ MacPherson
*Minimum 12 students to start class
*All Art Materials included in the course fee.
Materials include: Square Tile, Bijou Tile, Zendala Tile, Black Sakura Pen, Tortillon, 2B Pencil, and Sketchbook
______________________________________________________________________________________________________
Course Fee: $280 |$56 for seniors eligible for National Silver Academy (NSA) subsidy*
*NSA subsidy is for Singaporeans and Permanent Residents aged 50 and above.
1. In addition to NSA subsidy, course fee may be offset by SkillsFuture Credit (SFC).
2. First, course participants are to make payment for the course through Brahm Centre Eventbrite page.
3. They should claim with SFC before the course start date through the SkillsFuture portal.
4. Brahm Centre will reimburse the amount that is successfully claimed upon receipt of the funds from SFC.
Notes:
· Please note that payments for courses are non-refundable.
· There are no make-up lessons if you miss any session.
· If you miss the first session, you are allowed to proceed with the course. However, the trainer is not obligated to do a recap during the second session.
Instructor's profile
Samantha Lee is a Certified Zentangle Teacher (CZT®) | Japan Pastel Hope Art Association Instructor | Art4MeNU.轻彩绘Teacher
She started to learn this art then developed as hobby. As these art form promotes calmness and mindfulness as they are unplanned form of drawing, letting participant creating an art piece that reflect their peaceful state of mind during these courses. With this in mind, she hopes that these arts can benefit both children and adult as a reset in their hectic school work or work life.