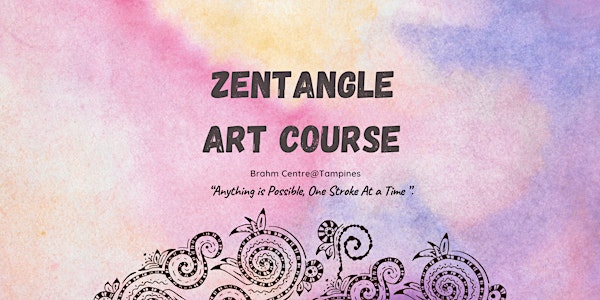 Zentangle Art Course by Stephanie Jennifer - TP20221003ZAC
Learn the Zentangle Method from Stephanie, a Certified Zentangle Teacher
When and where
Location
Brahm Centre @ Tampines Blk 473 Tampines Street 43 #01-94 Singapore, 520473 Singapore
About this event
WHAT?
The Zentangle method is an easy-to-learn, relaxing and fun way of creating beautiful images by drawing repeated patterns. It increases focus and creativity, provides artistic satisfaction, along with an increased sense of personal well-being. It is also different from doodling. Doodling is done mindlessly, and has no specific structure or method. In contrast, Zentangle art is created with intent, and the result is an art piece that you can be proud of. 
The Zentangle method is accessible to anyone across a wide range of skills, interests and ages. You don't need any drawing skills to learn about the Zentangle method. as step-by-step instructions will be provided, and if you can draw a line and a circle- you can do this. As the Zentangle motto goes, "Anything is possible one stroke at a time.". 
In this course, we will be using black ink on white surface. By the end of the 8-week course, you will learn the following: 
• Learn the 8 basic steps of the Zentangle® method 
• Learn to deconstruct patterns you see in your daily life 
• Learn and practice various tangling techniques, and more than 20 tangles 
• Practice how to record tangle patterns and use the list for reference after the course 
• Experience voice-guided tangling 
• Integrate tangling as part of living mindfully 
WHO?
This course is suitable for everyone and no art background is needed. As long as you can hold a pen, you have the ability to create beautiful tangled art! 
WHEN?
Monday, 3 October - 2pm-4pm
Monday, 10 October - 2pm-4pm
Monday, 17 October - 2pm-4pm
Monday, 31 October - 2pm-4pm
Monday, 7 November - 2pm-4pm
Monday, 14 November - 2pm-4pm
Monday, 21 November - 2pm-4pm
Monday, 28 November - 2pm-4pm
*There is no class on Oct 24 as it is a Public Holiday
WHERE? 
Brahm Centre @ Tampines 
*Minimum 14 students to start class 
All Art Materials Provided 
Trainer Profile: 
Born in Paris, France, Stephanie migrated to Singapore when she was just six years old. She 
discovered her love for art in 2009 and has not stopped learning, sketching, and being creative since. She learnt about the Zentangle® method in 2012, and then went on to be a part of the 21st Certified Zentangle® Teacher seminar in 2015. Naturally effervescent and bright, Stephanie has a very magnetic personality which enables her to be a very successful teacher.
Course Fee:
$280 |$56 for seniors eligible for National Silver Academy (NSA) subsidy* 
*NSA subsidy is for Singaporeans and Permanent Residents aged 50 and above.  
In addition to NSA subsidy, course fee may be offset by SkillsFuture Credit (SFC).  
First, course participants are to make payment for the course through Brahm Centre Eventbrite page. 
They should claim with SFC before the course start date through the SkillsFuture portal.  
Brahm Centre will reimburse the amount that is successfully claimed upon receipt of the funds from SFC.  
Notes:  
Please note that payments for courses are non-refundable.  
There are no make-up lessons if you miss any session. 
If you miss the first session, you are allowed to proceed with the course. However, the trainer is not obligated to do a recap during the second session.