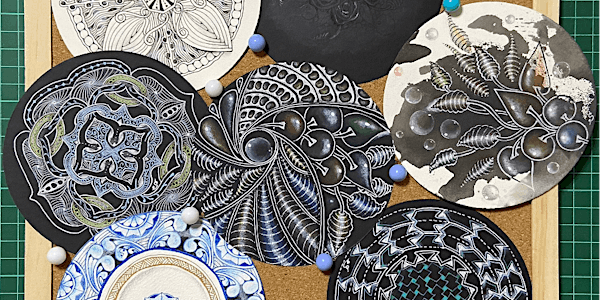 Zentangle Intermediate Course by Samantha Lee - MP20230408ZIC
In this course, we will be moving into more complex techniques, using different materials and working on both white and black surfaces.
Date and time
Sat, 8 Apr 2023 13:00 - 15:00 +08
Location
Brahm Centre @ MacPherson 55 Pipit Road #01-01 Singapore, 370055 Singapore
About this event
This Zentangle course is open to people who have taken at least 3 hours of training on the Zentangle method from a Certified Zentangle Teacher, understand the basic concepts of the method, and have experience drawing at least 8 tangles. This Zentangle Intermediate Course also allow participants to apply techniques in completing projects using craft and the Zentangle method.
WHAT?
The Zentangle® Method is versatile and breath-taking.
In this course, we will be moving into more complex techniques, using different materials and working on both white and black surfaces to explore the many possibilities that the basic strokes of dots, lines, curves and orbs can take us.
It provides a new medium for you to explore, but also provides an opportunity to remember, and to reconnect with, the basic messages and principles of Zentangle Method, exploring something new and unfamiliar with curiosity, self-compassion and acceptance.
During this course, we will be using black ink on white surface and tangling with white gel pen on black surface. You will learn to tangle on round Zendala tiles using complex tangles, practice various techniques on black tiles, and many variations of uses other mediums and techniques which integrate with the original form that we refer these as Zentangle Inspired Art (ZIA).
Learning Outcome:
By the end of the 8-week course, you can expect to
• Practice the Zentangle® method
• Learn more complex tangles
• Learn to draw on black surface using white gel pens, and bring light into dark
• Experience various projects integrating Zentangle method with other art forms
• Learn and practice more than 20 tangles
• Experience voice guided tangling
• Integrate and reinforce tangling as part of living mindfully
Come and tangle with us on black and round.
* All Materials will be provided except the following :
*Participants to bring the following materials to class :
Sakura Micron black pen PN and/or 01
2B pencil
Tortillion
Red pen
Notebook/Sketchbook for notes taking and tangling practice
WHEN?
Saturday, 8 April - 1.00pm-3.00pm
Saturday, 15 April - 1.00pm-3.00pm
Saturday, 29 April - 1.00pm-3.00pm
Saturday, 6 May - 1.00pm-3.00pm
Saturday, 13 May - 1.00pm-3.00pm
Saturday, 20 May - 1.00pm-3.00pm
Saturday, 27 May - 1.00pm-3.00pm
Saturday, 3 June - 1.00pm-3.00pm
(No class on 22 April, due to PH)
Total Number of Sessions: 8
**Minimum 12 students to start class
WHERE?
Brahm Centre @ MacPherson
Materials Provided:
White and Black Square Tiles, White and Black Bijou Tiles, White and Black Zendala Tile, 3Z Black Tiles, Black Sakura Micron 01 Pen, Sakura White Gelly Roll Pen, Sakura Gold Gelly Roll Pen, Sakura Coloured PN Pen, Tortillon, White Charcoal Pencil, Black Charcoal Pencil and Sketchbook (with black pages)
Participants to bring:
• 1 pc 2B pencil
• 1 pc tortillion (for 2B pencil)
• (Optional) colouring medium
Course Fee: $320 |$64 for seniors eligible for National Silver Academy (NSA) subsidy*
*NSA subsidy is for Singaporeans and Permanent Residents aged 50 and above.
Payment Procedure:
1) Upon registration, course participants are to make payment for the course through Brahm Centre's Eventbrite page.
2) Participants have to claim with SFC before the course start date through the SkillsFuture portal, https://www.myskillsfuture.gov.sg/content/portal/en/index.html
3) Brahm Centre will reimburse the amount that is successfully claimed upon receipt of the funds from SFC. This procedure can take up to 8 weeks from the course start date.
Notes:
· Please note that payments for courses are non-refundable.
· There are no make-up lessons if you miss any session.
· If you miss the first session, you are allowed to proceed with the course. However, the trainer is not obligated to do a recap during the second session.
Trainer Profile: 
Samantha Lee is a Certified Zentangle TeacherTM (CZT®) and Japanese Pastel Nagomi Art Instructor. She started drawing and painting during her free time in 2015 and attended instructor certification courses in 2017.
These art form promote calmness as they are unstructured form of drawing, letting learner creating an art piece that reflect their peaceful state of mind during these courses.
With this in mind, she hopes that these art can benefit both children and adult as a reset in their hectic school work or work life.
About the organiser
Brahm Centre is a leading course provider of a wide range of science-based mindfulness programs to reduce stress and enhance well-being in today's fast paced world. We have worked with healthcare agencies, schools and corporations to equip employees, parents and students with mindfulness tools to help them stay physically and mentally well. 
Course graduates may enhance their practice by joining our weekly mindfulness clubs. Furthermore there are free regular health talks conducted by healthcare professionals and qualified speakers open to the public.
Launched in 2012 as a charity that aims to promote happier and healthier living, Brahm Centre is a full member of the National Council of Social Services and an Institution of Public Character.
Come begin your mindfulness journey with us. 
Please note that all course registrations are NON-refundable. Transfer of selected mindfulness courses is subject to a $30 transfer fee and a $10 admin fee for a mindfulness make-up class. There are NO transfers or make-up classes available for all other courses.