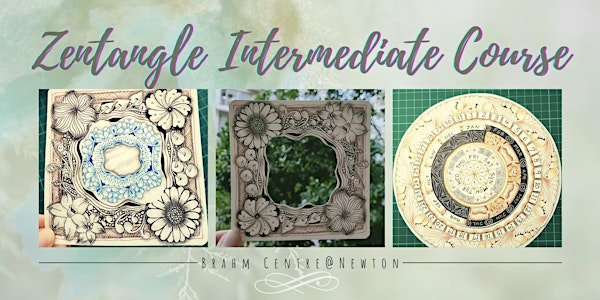 Zentangle Intermediate Course by Wai Fong - NT20230104ZIC
Learn to complete interesting projects by exploring more complex tangles and tangling techniques with Dr Chiang Wai Fong.
When and where
Location
Brahm Centre @ Newton 47 Scotts Road Goldbell Towers #04-02A Singapore, 228233 Singapore
About this event
This Zentangle course is open to people who have taken at least 3 hours of training on the Zentangle method from a Certified Zentangle Teacher, understand the basic concepts of the method, and have experience drawing at least 8 tangles. This Zentangle Intermediate Course also allow participants to apply techniques in completing projects using craft and the Zentangle method.
WHAT?
The Zentangle Method is versatile and breath-taking. In this course, participants can look forward to making different projects like coasters, calendar, pop-up cards, and fridge magnet, as well as using colours and stains to draw gemstones.
*Kindly note that, contents and craft projects may vary or differ according.
We will be working mostly on white surface with black and coloured pens. Participants can also look forward to exploring more complex tangles and tangling techniques.
Course Objectives (Topics Covered)
In this course, participants can expect to experience the following contents (may not be in the listed order)
Learn to apply the Zentangle method to make crafts
Create craft projects like coaster, fridge magnet, calendar, pop-up cards, etc.
Experience integrating the Zentangle method with other artform
Explore various ways to use colours with tangling
Learning Outcome
1. Practice the Zentangle® method
2. Learn more complex tangles
3. Learn to tangle with colours and staining tiles
4. Experience integrating Zentangle method with other art forms
5. Learn and practice more than 20 tangles
6. Integrate and reinforce tangling as part of living mindfully
8. Practice mindfulness using the Zentangle method
* All Materials will be provided except the following :
*Participants to bring the following materials to class :
Sakura Micron black pen PN and/or 01
2B pencil
Tortillion
Red pen
Notebook/Sketchbook for notes taking and tangling practice
WHEN?
Wednesday, 4 January - 10.30am-12.30pm
Wednesday, 11 January - 10.30am-12.30pm
Wednesday, 18 January - 10.30am-12.30pm
Wednesday, 1 February - 10.30am-12.30pm
Wednesday, 8 February - 10.30am-12.30pm
Wednesday, 15 February - 10.30am-12.30pm
Wednesday, 22 February - 10.30am-12.30pm
Wednesday, 1 March - 10.30am-12.30pm
(No class on 25 January, due to CNY week)
Total Number of Sessions: 8
**Minimum 12 students to start class
WHERE?
Brahm Centre @ Newton
Course Fee: $320 |$64 for seniors eligible for National Silver Academy (NSA) subsidy*
*NSA subsidy is for Singaporeans and Permanent Residents aged 50 and above.
Payment Procedure:
1) Upon registration, course participants are to make payment for the course through Brahm Centre's Eventbrite page.
2) Participants have to claim with SFC before the course start date through the SkillsFuture portal, https://www.myskillsfuture.gov.sg/content/portal/en/index.html
3) Brahm Centre will reimburse the amount that is successfully claimed upon receipt of the funds from SFC. This procedure can take up to 8 weeks from the course start date.
Notes:
· Please note that payments for courses are non-refundable.
· There are no make-up lessons if you miss any session.
· If you miss the first session, you are allowed to proceed with the course. However, the trainer is not obligated to do a recap during the second session.
Trainer Profile: 
Wai Fong is a Certified Zentangle Teacher, trained by the founders, Rick Roberts and Maria Thomas, in the US. She teaches the Zentangle Method as a therapeutic tool for self-discovery. Wai Fong has a Ph.D. in linguistic anthropology and is particularly interested in inner-self communication. She is also an emotional management practitioner. Her in-depth knowledge and passion to share make her classes both beneficial and fun to attend.
Testimonials:
~ Dr Chiang Wai Fong is very professional and patient. Thankful for her time and coming up with a curriculum that appeals to learners.
~ Wai Fong is very patient and inspirational in sharing her Zentangle art. She brings out the creativity and the artist in each of us. Particularly like her theme-based teaching for each session, open up our minds to various ideas to do Zentangle.
~ Wai Fong is professional as a trainer. She is patient, answers all questions and liked by all of us in the class. Most, if not all, of us, wish to continue with her training. I will definitely look forward to her future classes.