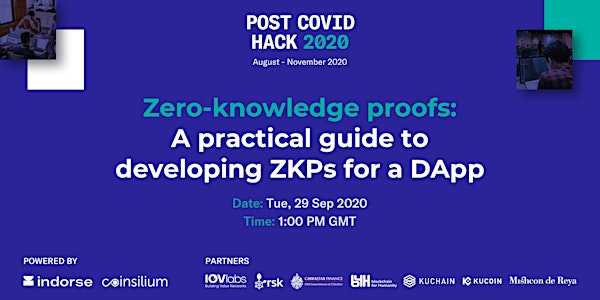 Zero-knowledge proofs: A practical guide to developing ZKPs for a DApp
Zero-knowledge proofs: A practical guide to developing ZKPs for a DApp
About this event
About
This workshop is a practical guide to developing ZKP's for an application. In this workshop, we will cover the following:
Intuitive explanation of zero knowledge proofs
Types of zero knowledge proofs
Current use cases and directions
Creating zero knowledge proofs on Ethereum
About Laurence Kirk
After a successful career developing financial applications in the City of London, Laurence was captivated by the potential of blockchain technology and set up Extropy.IO back in 2015, a consultancy working with start-ups in the UK and overseas, developing decentralised applications, and consulting on blockchain technology and cryptography.
Laurence has a Physics degree from Durham University and currently taking an MSc in Software Engineering at Oxford University where he founded the Oxford Blockchain Society. Laurence teaches blockchain and cryptography workshops and often gives talks on Blockchain, Ethereum and Zero Knowledge Proofs at conferences worldwide.
About Post Covid Hack
The COVID-19 crisis side-effects risk erasing decades of the progress of poverty alleviation and social impact initiatives while widening the income, gender, and digital divide. Unemployment, job precarity, and credit default rates are rising. We need to act now to accelerate the economic and social recovery process, reduce the post-COVID risks, and start building a society now which is better equipped for the "new normal".
The Post COVID Hack hosted by Indorse and Coinsilium with our headline sponsor IOVlabs will create a bridge between hidden talents and teams and blockchain companies. The global hackathon, therefore, provides a platform to establish long term relationships and partnerships within the industry, further product and user adoption and develop incredible technologies.
Theme
The hack is split into two tracks, the Socio-economic Inclusion track, which includes use cases but not limited to such as Social ID & Reputation, Impact Investment & Crowdlending, Community Currency Issuance and Community Wallets. The second track is an Open Track, with use cases around Health, Gamification and Privacy & Security.
Partners / Stakeholders
Many partners including IOVlabs, Blockchain for Humanity, Government of Gibraltar, Malaysia Digital Economy Corporation, the National Innovation Agency of Thailand, Kucoin, Mischon de Raya, as well as a number of blockchain societies from leading universities such as University of Cambridge, University of Oxford, Imperial College of London, University College of London, King's College London plus many more are supporting the Post COVID Hack initiative.