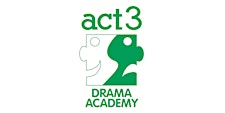 ACT 3 DRAMA ACADEMY
ACT 3 Drama Academy uses Drama to nurture, to build confidence, to discover own talent, and develop ourselves through experiential learning.  The very nature of Drama gives us the opportunity to recognise ourselves in various social settings and situations in an imagined world.
It is through Drama that we learn life skills that will help people understand themselves and the world they live in.  Drama also unleashes the imaginative mind, develops open-mindedness, and encourages creativity.  Students will grow in confidence using their voice and body in dramatic expression through elements and forms of Drama such as Role Play, Storytelling and Improvisation.
ACT 3 Drama Academy was set up in 1994 as a natural and needed progression from an established background of theatre and performance work for the young that was started in 1984.  It has honed and developed over the years a body of work on Drama Enrichment focusing on learning outcomes that build language skills, social interaction skills and dramatic skills in children and young people.
Sorry, there are no upcoming events