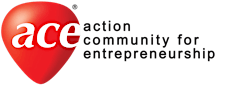 Action Community for Entrepreneurship (ACE) Ltd
The Action Community for Entrepreneurship (ACE), a national private sector-led organisation, plays a key role in building a dynamic and sustainable startup ecosystem in Singapore. Established in 2003 by the Ministry of Trade & Industry and restructured as a private entity in 2014, ACE is supported by the government, under the patronage of Senior Minister of State for Ministry of National Development and Ministry of Trade & Industry, Dr Koh Poh Koon.
ACE's mission is to lead the ground-up community strategic support to promote entrepreneurship, scale startups and build champion enterprises. ACE supports startups across all stages through three strategic core functions:
(i)              driving co-innovation between startups and enterprises;
(ii)             helping startups to scale and internationalise;
(iii)            building an access hub of connected ecosystems across countries.
In 2017, ACE launched the ACE International Centre (ACEIC) to enhance global connections for local entrepreneurs and provide a platform for startups to expand into regional markets.Supported by Enterprise Singapore and JTC, ACEIC facilitates opportunities for both local startups seeking regional growth and international startups setting up base in Singapore. Its services include global networking and community building, business and funding networks, co-working spaces as well as a market access programme. Today, ACEIC has grown its international network to twenty markets/gateway cities with ACE International Centres in Nanjing and Bangkok.