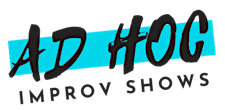 Ad Hoc Improv Shows
Ad Hoc Improv Shows brings together Singapore's best improvisers… especially those who don't get to regularly work with each other!
Expect fresh, experimental shows and see budding partnerships blossom (or fail!) before your eyes.
Shows are run on an ad hoc basis, do check out our event listings every so often!
Sorry, there are no upcoming events