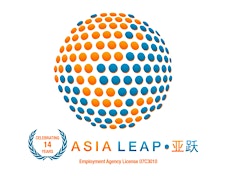 Asia Leap
Asia Leap is a leading consultancy firm which helps organizations to drive strategic business and people priorities successfully by providing the relevant solutions at the right time. Headquartered in Singapore, we are primarily providing business growth advisory, organization development and coaching solutions in new frontiers and established markets.
Asia Leap's teams have worked with multi-national and Asian organizations in diagnostics, design and delivery of business solutions for teams seeking to thrive and grow in new markets. By blending experience and insights from local and global resources, theory and business , we now offer a unique solutions for teams to resolve real market challenges unique to each region.
Our specialty stems from our extensive network of global perspectives and mindset -- a comprehensive network of professionals who are high caliber experts from different fields across the world. Our ability to deliver results is driven by a breadth of corporate experiences ranging from Strategy, Organization Development, Human Resource, Sales, Finance, Change Management, Quality, Service and Innovation.
In addition, we have a proficient project team to assist in managing projects. Together, we are committed to furthering the success of organizations through an innovative approach in professional services and project management.
Be it business capabilities, organization strategy, people development, skills acquisition or team learning, Asia Leap is always striving to deliver positive impact for organizations working together on individual projects, as well as entire project initiatives.
Sorry, there are no upcoming events