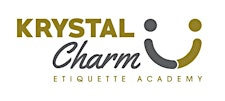 Krystal Charm Etiquette Academy
Krystal Charm Etiquette Academy is one of the only Singapore established training provider which specializes on etiquette training, character education and personal development for children and teens only. Such focus allows the participants to gain much insight knowledge and understanding during the course of the program. 
The academy is founded by Krystal Tan, who is well-qualified and experienced in coaching and educating children and teens on positive etiquette, character building and personal development. After obtaining a Bachelor of Science from National University of Singapore, Krystal moved on to further pursue her interest in Psychology under the American Institute of Arts & Science, where she focused on Early Childhood Psychology. She continued to acquire her certificate as a Children's Character, Confidence & Courtesy Coach®, a specialized credential endorsed by International Civility Trainers' Consortium (ICTC).  Krystal is also a Certified Coach in Self-Esteem Elevation for Children, offered by The Center for Personal Reinvention as well as a Certified NLP Practitioner under the American Union of NLP.  
Lifelong Learning Institute • Singapore
$140