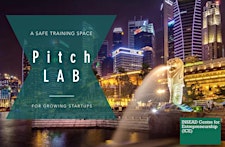 PitchLab
PitchLab is a training exercise for entrepreneurs to improve their pitch for fundraising.
It's also an opportunity for industry and investment professionals to help the entrepreneurs fine-tune her pitch by giving realistic feedback without the pressure on both sides to convince or reject.
PitchLab is an informal monthly event with up to 4 entrepreneurs giving a 5-minute pitch and receiving up to 10 minutes of interactive Q&A feedback.
Supported by INSEAD Centre for Entrepreneurship (ICE).
To apply to PitchLab as an entrepreneur please contact@pitchlab.academy
Follow us on https://www.pitchlab.academy/
Sorry, there are no upcoming events