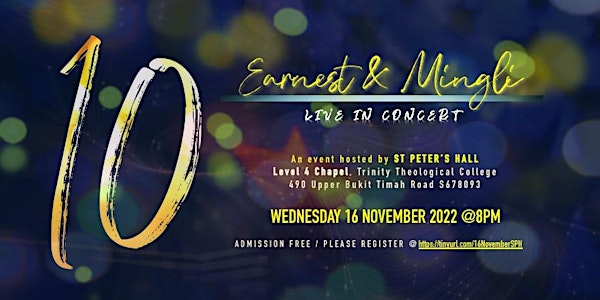 "10" - EARNEST & MINGLI live in concert at ST PETER'S HALL (TTC)
SPH is hosting a concert evening of live acoustic music and story-telling for our guests and friends. Come, listen and be refreshed !
When and where
Location
Trinity Theological College , Main Chapel (Level 4) 490 Upper Bukit Timah Road Singapore, 678093 Singapore
About this event
Since 2012, EARNEST & MINGLI have played their faith-themed songs and released passion projects including
2 music CD albums PAPERSCAPES, 2012; and TWELVE WINDOWS, 2017, and 'Life Ordinary a song contribution in Micah Singapore's album POETS & PROPHETS, 2020; and
2 video recordings CHAPEL CAROLS, 2020; and a short documentary SISTER OF SANDAKAN, 2021 (both available on YOUTUBE and VIMEO).
"10" is the title of their 3rd album of 10 songs that tell the story of God through musical imaginations of selected Bible narratives. They are playing 10 concerts from now until the end of this year. We look forward to enjoying this concert together with you!
For more info on Earnest & Mingli, visit: https://earnestmingli.com/
-----------------------------------------------------------------------
Started in March 1954, St Peter's Hall (SPH) is the training centre of the Anglican Diocese of Singapore. Our mission is to mould the future of the Anglican Church in Singapore and the region by (1) equipping and forming current and future leaders of the Diocese of Singapore, (2) upholding our Anglican identity, and (3) fostering community among our trainees. SPH is located at Trinity Theological College ( TTC), and complements the spectrum of training available at TTC, especially in the area of Anglican essentials. For more information on SPH, visit https://sph.org.sg.