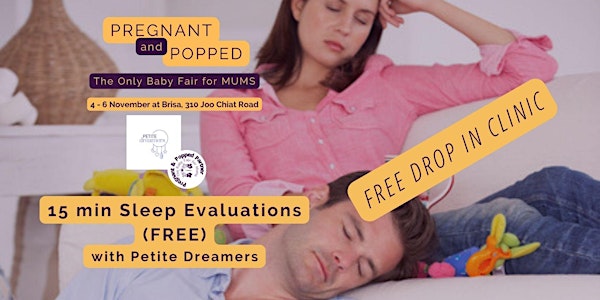 15 min Sleep Evaluations (FREE)
FREE 15 min BABY SLEEP EVALUATIONS with Paediatric Sleep Consultant, Louise Duncan, Founder of Petite Dreamers
When and where
Location
Above Brisa 310 Joo Chiat Road Singapore, 427561 Singapore
About this event
FREE 15 min BABY SLEEP EVALUATIONS
with Paediatric Sleep Consultant Louise Duncan, Founder of Petite Dreamers
DROP IN between 1pm-2.30pm for this FREE session!
🗓 Saturday 5 November
⏰ 1.00pm - 2.30pm
📍 310 Joo Chiat Road, Brisa, Level 2
🤑 FREE
🧑🏽‍⚕️ Petite Dreamers
😴👶🏼👼🏽🤰🏻😴👶🏼👼🏽🤰🏻😴👶🏼👼🏽🤰🏻
Find out how YOUR ENTIRE FAMILY could be sleeping better and healthier
RSVP IS ESSENTIAL
ONLY 6 PLACES AVAILABLE
To claim your FREE 15 min Sleep Evaluation:
1) Mark yourself as Going ✅
2) Look out for a DM from us to confirm your time
Please note that this is on a first come first served basis and times are not guaranteed
IF YOU DO NOT GET A TIME SLOT we still highly recommend coming down to THE ONLY Baby Fair for Mums as you will be able to find Louise there, along with over 30 perinatal specialists dedicated to supporting you, your pregnancy, your postpartum, your parenthood.
😴👶🏼👼🏽🤰🏻😴👶🏼👼🏽🤰🏻😴👶🏼👼🏽🤰🏻
FIND OUT MORE ABOUT THE EVENT HERE >>> https://www.empowa.sg/schedule/pregnant-popped-november-2022-1
GET THE HELP AND SUPPORT YOU DESERVE
At
PREGNANT & POPPED - THE ONLY Baby Fair for Mums in Singapore
Exclusively dedicated to supporting YOU, your journey, your pregnancy, your postpartum and your transition to motherhood and parenthood
This is a FREE Drop in Clinic, simply come down and say hi!
Please note that this is on a first come first served basis and times are not guaranteed
JOIN US
We can't wait to meet you
Over 30 vendors, all dedicated to supporting your pregnancy, your transition, your postpartum, your parenthood, YOUR JOURNEY
Please note that your registration details may be shared with vendors and partners of this event. By providing your registration details you are confirming your agreement to this in the knowledge that you may be added to mailing and subscription lists. Should you wish to unsubscribe from any mailing list in connection with this event please do not hesitate to contact Kathy@empowa.sg to request the same
CHECK OUT @empowa.sg on Instagram to get all the latest updates