Multiple Dates
A Five-Day Energy Manager Certification under AEMAS and Energy Commission
About this Event
Energy Manager Training Course has been designed to provide knowledge and skills to implement Sustainable Energy Management Systems to all Energy Managers and Certify them under the scheme.
Course Perks:
20 CPD points by ST Claimable
HRDF claimable
Eligible for conversion to Registered Electrical Energy Manager (REEM) under the Energy Commission
Dates:
19-23 April 2020
05-09 July 2020
18-22 October 2020
Learning Outcomes:
✅ Introduce enterprises to a comprehensive sustainable energy management program.
✅ Equip energy managers with the knowledge and skills to establish and sustain the implementation of an energy management system for businesses, to increase energy efficiency and significantly reduce energy cost.
Who Should Attend:
✅ Future Energy Managers
✅ Professionals from any discipline
✅ Facility / Maintenance Managers or Engineers
✅ Industry Personnel
✅ Malaysian Energy Professional Association
✅ (MEPA) members
Course Certification:
For the trainees:
Energy Manager Certification (CEM), granted by the ASEAN Center for Energy (ACE) upon successful completion of the training.
For Businesses:
Energy Management Gold Standard certification, issued by the ASEAN Center for Energy (ACE), when an enterprise submits an Implementation Plan indicating the energy efficiency improvement, prepared by a certified energy manager.
Course Benefits:
For the Energy manager trainees:
Understand the context of energy use in Malaysia and the world as well as local laws and regulations, which help businesses to proactively prepare for the energy management and to comply with the law.
Ability to establish and implement a sustainable energy management system in the enterprise, in compliance with the ISO 50001 standard, and in preparation for Energy Management Gold Standard certification.
Improve professional standing with a certificate validated in 10 ASEAN countries.
Provide employment opportunities through a network of ASEAN Energy Management Scheme in ten ASEAN countries.
For businesses:
Establish energy management system to use energy in a systematical manner.
Save energy costs, become economically competitive.
Minimize energy losses, save money.
Ease the application of other quality systems like ISO 50001 and TPM.
Achieve Energy Management Gold Standard certification
Improve the businesses image as a sustainable and efficient business.
Increase the competitive position regionally and internationally, with a certification recognized in 10 ASEAN countries.
Value added benefits:
Support other quality system such as ISO 14001, ISO 50001, Total Quality Management (TPM) etc
Organization to demonstrate corporate and social responsibility (CSR)
Upgrade memberships status (MEPA members only)
CPD hours from IEM (21 + hours)
CPD from Suruhanjaya Tenaga
A pre-requisite to be one of the certified trainers
HRDF claimable under the SBL Scheme
Entitled to an exemption of the Sustainable Energy Management Module offered under UTM MSc. Energy Management
Requirements to Participate:
Age above 21 years old with proficient in English
Holds a degree in Engineering, Science, Economic, etc
At least 2 years experience in Managerial Role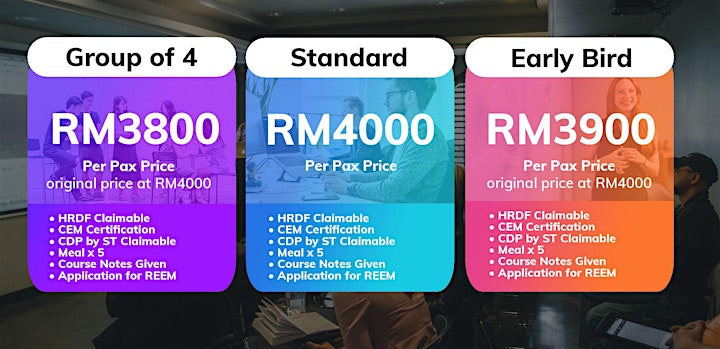 FAQs
How can I contact the organizer with any questions or get the full workshop outline?
Mr Axel Looi
Phone: +6016 716 7248 (Whatsapp)
Email: training.prospect@utm.my
What's the refund policy?
There is no refund, but you may get another person to replace. Get in touch with us to find out more.
Is this workshop HRDF claimable?
Yes, it is claimable.
Can this workshop eligible to claim CPD points?
Yes, it depends on the course. Get in touch with us to find out more.
When do I need to make a payment?
You will need to make the relevant payment at least 7 working days before the training in order for you to receive the receipt which you will need if you would like to claim from HRDF.
Can I make payment using Local Government Order (L.0.)?
Yes, payment is accepted using LO.
Any In-house Training available for this course?
Yes, kindly contact us for more arrangement on this.