Bring in the new year with this ultimate tasting of different vintage sparkling wines!
About this event
A LESSON IN VINTAGE SPARKLING WINE
We all love to see a vintage on a bottle of bubbles, but too often think that the bottles are out of our league, in both price and accessibility. The reality is much, much different. Vintage sparkling takes on many different personas and each of these four will highlight how to identify what style of vintage bubbles is to your liking. Get some friends together, chill the bottles and get ready to walk through and understand how to taste vintage sparkling wines and their unique profiles depending on the grapes and regions they come from!
What: 2001 The Lenz Winery Cuvee Sparkling (NY - USA), 2012 Piper-Heidsick Brut Millesime (FRANCE), 2017 Alta Alella AA Bruant Cava (SPAIN), 2015 Roebuck Estate Blanc de Noirs (ENGLAND)
How: 4 bottles delivered to your house for $378 nett the day of the event
When: 20 January (Thursday) - 8:30pm
Where: Zoom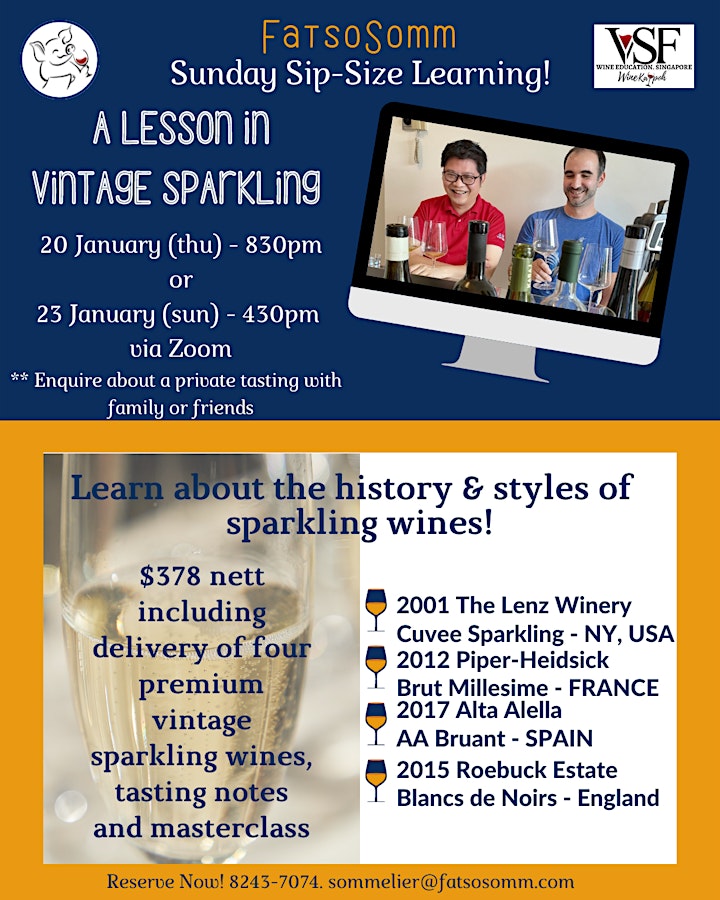 Organiser of A Lesson in Vintage Sparkling Wine: Tasting and Masterclass (Virtual)