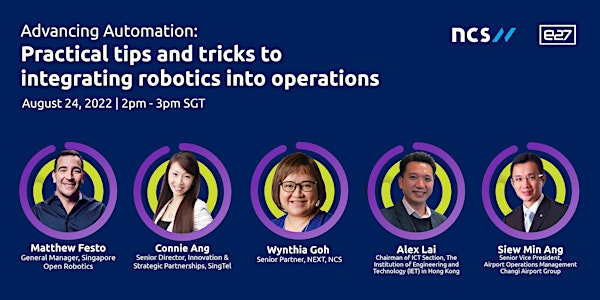 Advancing Automation: Practical tips and tricks to integrating robotics
Learn more from the experts about practical tips and tricks for integrating robotics into your business operations.
About this event
The event is focused on how various industries can capitalise and benefit from integrating service robots into their operations. In this webinar, we deep dive into the space of service robots with practical applications for businesses.
Featuring:
Connie Ang - Senior Director, Innovation and Strategic Partnership/Centre Director, FutureNow Innovation Centre at Singtel
Matthew Festo - General Manager, Singapore at Open Robotics
Wynthia Goh - Senior Partner at NCS NEXT
Alex Lai - Chairman of ICT Section at The Institution of Engineering and Technology (IET) in Hong Kong
Siew Min Ang - Senior Vice President, Airport Operations Management at Changi Airport Group
Specifically, our industry speakers will discuss:
Introduction to robotics and general trends including case studies of successful applications in different tech and non-tech industries
What are the overall benefits of robots in human operations?
What do you need to be ready for robotics integration into operation? What are the signs that your company is ready for adoption? What are the mistakes to avoid?
How to maximize your ROI for your infrastructure investment and what are the best practices coming from the investors in the space?
For more information on NCS robotic offerings, visit their website.
NCS Robotics brings full suite of end-to-end robotic solution to APJ region.
What is this event about?
This webinar is the first of a 2-part event consisting of an online discussion, followed by an offline in-person event in Singapore which covers:
Practical tips and deep dive into implementing service robots into operations
An offline in-depth showcase of NCS robotics solutions
Make sure to register and get your ticket now! If you are interested in joining the in-person event, please let us know in your order form.
Note:
By registering to join this event, you confirm that you have read and agreed to Optimatic Pte. Ltd Terms & Conditions and Privacy Policy.