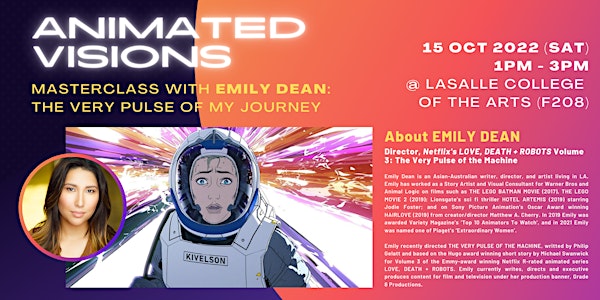 Animated Visions: Masterclass with Emily Dean
Join us for this special Masterclass with Emily Dean (Director, Netflix's LOVE, DEATH + ROBOTS Volume 3: The Very Pulse of the Machine)
When and where
Location
LASALLE College of the Arts 1 McNally Street Blk F, Lvl 2, Room F208 Singapore, 187940 Singapore
About this event
Animated Visions: Masterclass Series
As part of Cartoons Underground industry-focused arm Animated Visions, we invite distinguished overseas and local filmmakers to share about their artistic journey, career experiences and advice to aspiring animation filmmakers and artists! In the past, we have had the pleasure of inviting esteemed filmmakers such as Oscar-nominated animation filmmaker Siqi Song and award-winning animation director and head programmer of GLAS Animation Festival Sean Buckelew to share and inspire! And for the first time, we will be opening these Masterclasses for the public to sign-up for FREE!
Masterclass with Emily Dean: The Very Pulse of My Journey
About EMILY DEAN
Director, Netflix's LOVE, DEATH + ROBOTS Volume 3: The Very Pulse of the Machine
Emily Dean is an Asian-Australian writer, director, and artist living in LA. Emily has worked as a Story Artist and Visual Consultant for Warner Bros and Animal Logic on films such as THE LEGO BATMAN MOVIE (2017), THE LEGO MOVIE 2 (2019); Lionsgate's sci fi thriller HOTEL ARTEMIS (2019) starring Jodie Foster; and on Sony Picture Animation's Oscar Award winning HAIRLOVE (2019) from creator/director Matthew A. Cherry. In 2019 Emily was awarded Variety Magazine's 'Top 10 Animators To Watch', and in 2021 Emily was named one of Piaget's 'Extraordinary Women'.
Emily recently directed THE VERY PULSE OF THE MACHINE, writted by Philip Gelatt and based on the Hugo award winning short story by Michael Swanwick for Volume 3 of the Emmy-award winning Netflix R-rated animated series LOVE, DEATH + ROBOTS. Emily currently writes, directs and executive produces content for film and television under her production banner, Grade 8 Productions.
Note: As the artist is based outside of Singapore, the Masterclass sharing will be conducted live via Zoom. Participants will be able to ask her questions about her experiences during a Q&A at the end of her sharing.
Sign up for our other Masterclass with Singaporean director/story artist Samantha Lee on 8 October 2022 via this link!