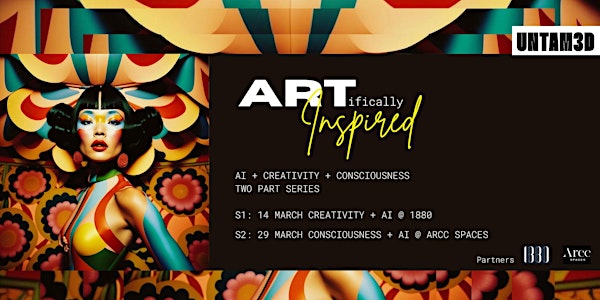 ARTificially Inspired part II
ARTificially Inspired. An event series that will dive into the thought-provoking and fascinating world of AI, creativity and consciousness.
Date and time
Wed, 29 Mar 2023 17:30 - 19:30 +08
Location
Arcc Spaces - One Marina Boulevard 1 Marina Boulevard #Level 20 Singapore, 018989 Singapore
About this event
Welcome to ARTifically Inspired!
An event series that will deep dive into the thought-provoking and fascinating world of AI, creativity, and consciousness. With leading creatives, programmers, and thinkers, we'll explore topics that challenge your imagination and push the limits of what's possible.
Will AI enhance human creativity or require us to redefine what it means to be creative
How will AI evolve toward consciousness and self-awareness?
Curious about the Singularity and what it means for the future of art and creativity?
In this two part series leaders from creative and tech industries, music, art, poetry, advertising, programming, business will discuss topics on where Art, Consciousness and AI collide. We'll examine the extraordinary possibilities that lie ahead, as well as the challenges and threats to our society and creative culture.
👉 Series One: CREATIVITY + AI - ENDED
👉 Series Two:
CONSCIOUSNESS + AI - 29TH MARCH @ ARCC SPACES 5.30 - 7.30pm
1) Good Robot. Bad Robot: Can Machines Learn to Be Kind?
As AI continues to advance and permeate various aspects of our lives, it begs the question of whether machines are capable of exhibiting kindness, compassion, and empathy. Can machines learn to and emulate positive human traits? And what are the possible pitfalls and ethical considerations that come with programming AI to behave in certain ways.
Explore the concept of AI Singularity, the hypothetical point at which machines surpass human intelligence and control their own evolution. As we contemplate this scenario, we will discuss the potential implications for human society and the role that kindness and empathy may play in shaping our future relationship with machines.
Speakers
⭐️ Dr Mikhail Filippov, Lecturer Computing NUS & Fellow UCL
⭐️ Melanie Cook, Founder FLOW & Computer Science Masters Researcher
⭐️ Elaine Ng, Founder & CEO, AI Shophouse
⭐️ Arif Khan, CEO & Founder Althea AI
⭐️ Uma Rudd Chia, Founder & Creative Director KVUR
TICKET PRICE INCLUDES: Ticket to the lively panel discussions, interactive demo, community networking PLUS a drink and light bites.
Sadly we are unable to offer any refunds on tickets purchased.
HOST & PARTNERS
UNTAM3D exists to decode the world of web3 for women+, enabling their growth, igniting their potential and elevating their success. Join our thriving community at https://www.facebook.com/groups/268792121874056/
Our venue and community partner is ARCC Spaces, a shared workspace brand with a network of hospitality and design-led spaces in Asia's gateway cities – Singapore, Kuala Lumpur, Shanghai, Beijing, and Hong Kong. Bringing the world's businesses together – Arcc Spaces works with a community of changemakers and doers to drive innovation, learning, collaboration, and opportunities.