About this Event
Back in twenty years ago, have you often heard about diseases like stroke, cancer, diabetes, hypertension, depression often? Based on the medical report of the world, many chronic illness has risen and the demand of the hospital spaces are getting crazier.
Michele always remember how her grandfather told her when she was young how important to be aware of our own body. Her grandfather taught her Qi-gong when she was just 7 and shared with her many TCM healing skills. Since then she interested of healing and massage people. All the basic knowledge that she has learned has become her essential tools to take care of her own body and she able to share and help more people in her healing sessions. Of course, her interest has never stops her to keep learning, she is certified in yin yoga, Anatomy and Meridian Master Immersion.
In this Be Your Doctor session, Michele will first share about what are the essential exercises to prevent illness like heart attack, stroke, hypertension, anxiety etc. She will touch one a topic of how our emotions that cause us in any illness and pain. For example, when we bottle emotions we are locking them within our bodies. This can cause muscle tension and long term it might turn into disease. Whether you realize it or not you may be bottling up, it is always good to understand and check as we may forget about the things we have trapped inside. Michele will teach how you can find out the trigger points to release the pain and turn into a healing process.
Throughout the session, you will learn the essential tips and practical skill to detox and boost from your internal body to external included your emotion and mental health. Michele will specially share the tips of maintaining and living in high energy in order to keep our consciousness aligning with our body, emotion and mental. This not only will help to recover from chronic illness, it will keep you have a radiant and fit look and your life will be manifested abundantly in overall. As how Chinese people always says, the look will tell everything of a person whether having a good luck.
Benefits and key takeaways:
• Realign your spine and release trapped energy and emotion in the body parts or organs
• Improve nerve system and activate the stagnant energy in the meridians
• Be your own doctor to learn various of instant essential techniques to heal yourself and practice at your convenient
Be Your Own Doctor- From trigger points to healing peak
With Michele Chong
Sat 21 March 2020
1.00pm- 4.00pm @SGD138
Early Bird Offer: SGD110 (pay by 14 March 2020)
+Energy @Health Journey: SGD96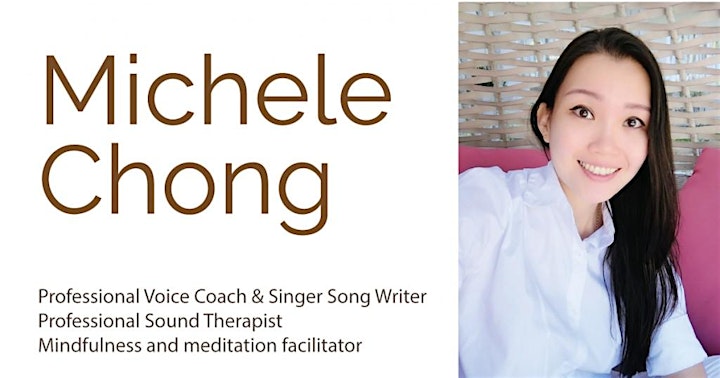 Michele has been invited to run workshops and private sessions across the world, including in Indonesia, Malaysia, Dubai, Hong Kong, Shanghai etc. Her workshops and sessions have been extremely popular. Through her sound therapy work, she has transformed and healed many of her clients. She believes that sound is the most powerful medicine. Michele continues to enhance her knowledge and skills by pursuing courses related to health and wellness, human psychology and relationships, and self-improvement.
Her favourite quote is "Nothing is Impossible". Michele believes strongly in what she is doing and loves helping people to transform their lives. She hopes that everyone will discover their mission in life and work wholly towards it with positive energy and trust.
Learn more about Michele here.