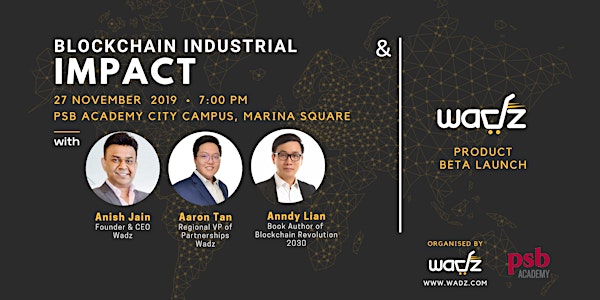 Blockchain Industrial Impact & Wadz Beta Launch
Blockchain industrial impact & Wadz Beta Launch
When and where
Location
PSB Academy City Campus 6 Raffles Boulevard Singapore, 039594 Singapore
About this event
With major advances to blockchain technology over the years, mainstream corporations are taking steps to adopt blockchain technology as part of their operational processes. Use cases of blockchain varies for different industries - find out first-hand from key opinion leaders on how blockchain is being utilised.
In addition, this will also be Wadz's first event after the beta launch of the Wadz iOS and Android application – an inclusive infrastructure that leverages on blockchain technology that is set to revolutionise payment technology and to benefit both consumers and businesses. Wadz will not only allow consumers to have ownership over their data but also businesses to have opportunities to cheaply acquire valuable consumer data that will directly impact business growth.
Date & Venue
Wednesday, November 27, 2019, 7pm
PSB Academy City Campus, Singapore
Agenda
7.00 pm – Registration
7.30 pm - "Logistics & Supply Chain" - Anndy Lian,
7.50 pm - "Wadz: Data ownership, payments industry and the unbanked" - Anish Jain, CEO Wadz
8.10 pm - Panel discussions | Q&A
8.30 pm – 8.45pm - Networking
*Food and beverages will be served
Panelists & Moderator
Aaron Tan (Moderator)
Regional VP Partnerships, Wadz
Anish Jain (Panelist)
CEO, Wadz
Anndy Lian (Panelist)
Book Author of Blockchain Revolution 2030
About CEO Wadz, Anish Jain (https://www.linkedin.com/in/jain-anish/)
Anish is an incisive leader with over 15 years of extensive experience with two of the top payment processing companies in the world. In his last role as Vice President for Market Development with MasterCard, he managed markets such as Asia, Australia, Middle East & Africa. In this role, he led and executed several successful payments projects across the region with Telco's, Airlines, Large Retailers, Governments, etc.
Prior to MasterCard, he was the Client General Manager for American Express and was posted in various geographies including India, Australia, and Singapore. In addition, Anish also currently oversees a successful asset management company in Singapore, and his family manages several successful telecommunication projects in India and Africa.
About Regional VP of Partnerships Wadz, Aaron Tan (http://www.linkedin.com/in/yong-quan-tan-0746b816a)
Aaron is a passionate blockchain entrepreneur and the co-founder of Nakka Singapore, a venture and community building company that focuses on emerging tech and blockchain solutions.
Being a consultant and core team member of several ICOs has enabled Aaron to acquire a wide range of business development and sales experience in the blockchain industry.
Prior to working in the arena of blockchain technology, Aaron has worked in tech and marketing startups, SMEs, as well as Government-linked organizations in Singapore.
About Book Author of Blockchain Revolution 2030, Anndy Lian (https://www.linkedin.com/in/anndylian)
Anndy Lian is an all-rounded business strategist with more than 15 years of experience in Asia. He has provided advisory across a variety of industries for local, international and public listed companies.
He currently plays a pivotal role as the Blockchain Advisor for Asian Productivity Organization (APO), an intergovernmental organization committed to improving productivity in the Asia-Pacific region. He advises the Secretariat on the latest concepts and applications of blockchain technologies in cybersecurity and IoT network data integrity across smart factories and upskill the Secretariat staff in blockchain technologies as applicable to productivity. APO members include Bangladesh, Cambodia, Republic of China, Fiji, Hong Kong, India, Indonesia, Islamic Republic of Iran, Japan, Republic of Korea, Lao PDR, Malaysia, Mongolia, Nepal, Pakistan, Philippines, Singapore, Sri Lanka, Thailand, and Vietnam.
He wrote a book titled "Blockchain Revolution 2030" and is published by Kyobo, the largest bookstore chain in South Korea. Together with co-authors, Park Young Sook and Shawn Hamnison, they share insights on how blockchain technology plays an important foundation to the Fourth Industrial Revolution.
His blockchain knowledge and work has drawn attention from various international media such as Forbes, Bloomberg, Reuters, Yahoo, Nasdaq, FOX News, The Straits Times, Business Times, ABC News, Singapore Business Review, Asia Business Weekly, CBS News, CNET, ZDNET and more.
____________________
Organising Partners
PSB Academy x Wadz
For media/event enquiries, please contact jiajun.liew@wadz.com