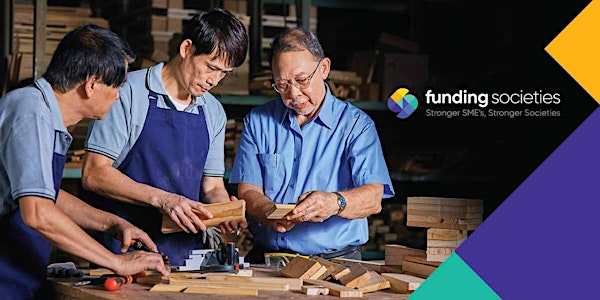 Building a Profitable Franchise through Alternative Financing
How to chart a successful franchise road-map for your business?
When and where
Location
Funding Societies Pte Ltd 10 Hoe Chiang Road #05-08 Singapore, 089315 Singapore
About this event
Ever dreamt of bringing your retail business to the next level through franchises?
Many retail brands have franchised their business within the shortest period of time without a well thought out franchise road-map and live to have the longest regret.
In this session, join us to discover:
the benefits of franchising and key go to market strategies
earnings and controls of a franchising model including how to monitor returns
how retail businesses have been growing 10x faster using a proven franchise road-map
factors around pricing your franchise, in order to maximize returns
the strength of alternative financing, and how it can be your enabler for your required 10x growth
sustainable business financing through debt crowdfunding
----------
About the Speakers:
FT Synergist - Frederick Tan, Director
FT Synergist is a young and vibrant brand specializes in enabling small and medium enterprises (SME) to synergize their successful business models into marketable franchises or assisting brand owners to adopt a business transformational model before the next leap locally or regionally.
Frederick is the founder and principal consultant of FT Synergist. He is a Singapore Certified Management Consultant approved by Enterprise Singapore to help SMEs upskill their core capabilities through the support of government grants. He holds a Masters in Organisational Leadership and a Specialist Diploma in Franchise and Enterprise Management.
He started off his career as a full-time professional trader in Singapore Exchange and Chicago Mercantile Exchange and grew the investment portfolio from SGD30,000 to SGD600,000 within 3 years of active trading. His innate love for children motivated him to spearheaded the development of the Adam Khoo Learning Centre Brand and grew the brand across Singapore, Indonesia and Vietnam.
Frederick has since sold off his majority stake in AKLC to focus on a new goal to help 100 entepreuners improve the quality of lives of 100 million people around the world through their products and services. Some recent portfolio of brands include Wufang Singapore and Big Fish Small Fish.
U Ventures - Jace Koh, Founder
U Ventures was founded with the primary purpose of providing quality accounting and finance solutions to SMEs. We adopt an active approach to uncovering and discovering the returns that owners are generating per dollar that they put into the business, with the goal of maximizing every dollar in the business.
Funding Societies - Benedict Khong, Head of Digital Lending
Benedict Khong is the Regional Head of Digital Lending at Funding Societies | Modalku primarily focused on increasing adoption of financial technology for businesses in Singapore and Malaysia. Previously as the Regional Head of Data Analytics & Behavioural Insights, Ben lead a team to drive operational efficiency and build robust market/business reports with real time tracking capabilities to guide decision making and shape strategy in Funding Societies.
After bagging a degree in Economics from University College London, Ben went on to Barclays Corporate and Investment Bank in London where he advised Technology, Media and Telecommunications clients in corporate finance. Ben then spent time at iwoca, a leading FinTech company in London. At iwoca, he worked on credit decisioning and innovative methods of underwriting small businesses. iwoca offers credit facilities to small businesses trading in the UK, Poland, Spain, and Germany via an automated lending platform.