CFD: All and Why You need to know About It

Wednesday, 21 November 2018 from 19:30 to 21:30 (Singapore Standard Time Singapore Time)
Event Details
Outstanding October?
It Would Have been if you were on the SHORT Side, if Not You'll probably be Out of the Money and Out of the Market.
10 Oct 2018 was another day to remember as the Dow plunged more than 800 points in a day causing wide spread panic selling. Stocks were brutally sold off and We're Glad we were on the Right side.
Stocks like Capitaland, Sembcorp Industries, UMS and Many more which we alerted our clients on, came down and hit our Downside Targets!
After a Good month of Shorting in October, our market finally found its footing. STI began to show some live and managed an impressive rebound of around 100 points from 2980 to 3091 which we Spotted from End October. See it Over HERE!
Using Contract For Difference (CFD), you will be able to Long or Short the Straits Times Index with Ease to ride along for such massive moves.
In addition, CFD Allows for Shorting in an Easy and Efficient manner which is so crucial to Todays' Volatile Market. Knowing Only how to Long and not SHORT would put a trader in a Severe Disadvantage as he or she can only trade in one direction. Hence it is of Utmost Importance to get Yourself Equipped on the Knowledge and Tool for Shorting.
As CFD involves leverage which can be a double edge sword, it is Very important that you are well educated on how to make use of Leverage and CFD.
In this Coaching Session, we will be covering WHAT is CFD, HOW to use CFD for some leverage to swing trade your trade to achieve better results and One of the most Crucial Aspect is How to use CFD for Short Selling; HOW to execute Short Selling and WHY it is a Tool You Need to Know and Have in such a market.
Many of Kelwin&Roy's Clients have Benefitted Greatly from their Patient Guidance, Deep sharing, coupled with their Timely Trade Analysis which have won praises from their clients. We will also be sharing HOW to be Included in these alerts which clients have been raving about.
We will go through a Comprehensive and In-Depth Explanation about ALL there is to know about CFDs for Long and Short Positions so You will be Confident in using this tool.
Among the Topics we will cover are:

How to be Part of our Growing Community where we share our Timely long and short Trading Analysis Regularly.

What and How to use CFD for proper leverage and to swing your positions for better results in Up and Down Market.

What is Short Selling and How to Execute Short Selling via CFD for Downtrend Stocks and also use it to HHedge your Long Positions

What will happen to the CFD position should you have an open long or short position that gets suspended.

How will different Corporate Actions Affect your Long and Short Positions that you are holding.

How to use CFD to long or short our Straits Times Index or even the other world Indices.

How to set Stop Loss to Protect your Long and Short positions



Don't Miss this Chance
See you on 21 November

Kelwin&Roy
Speakers' Profile:
Kelwin&Roy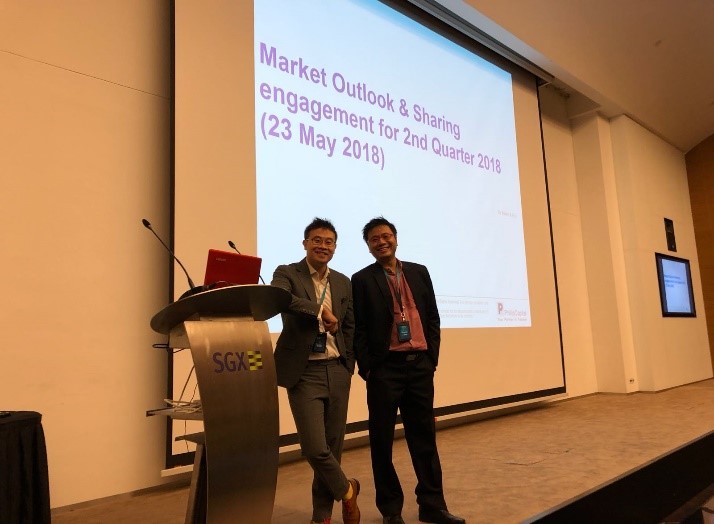 Kelwin and Roy are a Team of Top-Tier Remisiers at Phillip Securities with a total of 15 years of industry experience under their belt. Having been accorded one of the industry most prestigious award by Phillip Securities, the Top 10 Trading Representative Award for Equities & CFDs in 2016 and 2017, they are no stranger to an ever changing trading landscape.
They had a humble beginning working their way up and being awarded numerous awards along the way by Phillip Securities such as the Top CFD Newcomer Award 2011, Best Improved Performance Award 2014. Roy was also accredited as a CFD specialist in 2016 affirming the depth of knowledge in CFDs.
Their passion in trading and education for their clients have spurred them to conduct countless trading seminars, workshops and market outlook. As a result, thousands of clients and public have benefitted from their selfless sharing of their market insights and trading experience. They have also shared their views on the market on radio station such as 938 Live.
Clients have greatly benefitted from this team of Top Performing Remisiers with their regular market outlook and trading analysis via WhatsApp.
Kelwin and Roy are also Founders of the Trading Blog SingaporeHumblestock.com where they actively share investment and Trading Ideas to the Public on their thoughts of the Market. You may also follow them at SingaporeHumblestock.com
IMPORTANT NOTES FOR SEMINARS:
Please note that under the Singapore Personal Data Protection Act (PDPA) 2012, Phillip Securities Pte Ltd respects the privacy of all our customers and visitors, and are committed to safeguarding the personal information you provided to us. For event registrations, you will be requested to provide your personal particulars, which include but are not limited to the following:
a) Full Name
b) Contact details, including telephone number/s and/ or email address
Please note that Phillip Securities Pte Ltd will send out "Email Confirmation", Short Message Service (SMS), and events/seminars via email to all registrants for all Phillip Securities Pte Ltd events. All personal data held by Phillip Securities Pte Ltd will be kept confidential, will not use and disclose to third parties.
When & Where

Phillip Securities Seminar Room
Level 7 Raffles City Tower, 250 North Bridge Road
Singapore City, 179101
Singapore

Wednesday, 21 November 2018 from 19:30 to 21:30 (Singapore Standard Time Singapore Time)
Add to my calendar
Organiser

Phillip Securities Pte Ltd (A member of PhillipCapital)
---
Since 1975, the PhillipCapital network has grown into an integrated Asian financial house with a global presence that offers a full range of quality and innovative services to retail and high net worth individuals, family offices, corporate and institutional customers.
Our comprehensive suite of financial products and services includes fund management, managed accounts, unit trusts, insurance planning, regular savings plans, contracts for difference, exchange traded funds, investment research, equity financing, bonds, securities, futures, foreign exchange, precious metals and commodities. Institutions can also benefit from our corporate finance and advisory services as well as information technology solutions.
With more than 3,500 employees and over 1 million clients worldwide, our assets under management totals to more than USD 35 Billion with shareholders' funds in excess of USD 1.5 Billion.
PhillipCapital (with headquarters in Singapore) operates in the financial hubs of more than 15 countries, with offices in Australia, Cambodia, China, France, Hong Kong, India, Indonesia, Japan, Malaysia, Singapore, Sri Lanka, Thailand, Turkey, UK, UAE, USA and Vietnam.
PhillipCapital provides market access to 25 global stock exchanges, round the clock trading assistance, online multi–currencies facility, and custodian services to take care of your trade settlements and corporate actions.