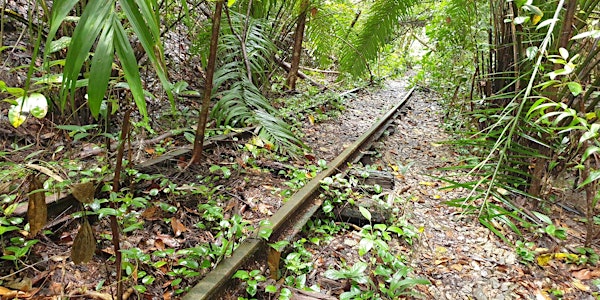 Clementi Forest Walking Trail
Among the lush greenery, lies a railway track, under the track lies an innocent grey rock and underneath that rock you will find...
When and where
Location
King Albert Park MRT Station (DT6) 2 Blackmore Drive Singapore, 599987 Singapore
About this event
This is a true story. I don't mean to boast but I was once upon a time a very handsome young man. I wasn't only handsome. I was charming too. My mother loved me very much. I was also a mummy's boy – I think you can read between the lines. One day, a new neighbor moved in. On any count, Alicia LoveLock was a very pretty neighbor. Her hubby is a pilot. She is a SIA flight stewardess.
Last week, she came to borrow some salt. Earlier this week, she came to borrow some sugar. She didn't leave. We ended up on the kitchen tabletop. We had an affair. But it wasn't long before my mother caught us red-handed - right there on the kitchen table top. My mother was sad. She said, "Alicia LoveLock has to go". So, last night I had to tell Alicia that we had to break up. She was angry. I honestly didn't know she could do magic. She waved her broom and turned me into a frog. I could almost hear her screaming in laughter as she mounted her broom and flew away in the direction of the moon. Even as a frog, I could see her sexy silhouette as she flew past the moon… No, she wasn't an ugly witch with a conical hat - astride a broom. She was a sexy witch!
But like all fairy tales, there is always a cure. All I need is a kiss. I am lucky – I understand Uncle Chris will be doing a walking tour through the Clementi Forest on the 27th of November 2022. I am now hiding under the railway track at the Clementi Forest. Please come and save me. All I need is just one kiss. I promise you in return, I will do anything possible within my means (to reward you). Uncle Chris is expecting you to tip him at the end of the tour. I'll take care of the tip for you – and more. I just need one kiss! I know it will be silly to be seen kissing a frog. So, we will do this very discreetly. I'll be hiding under the rock as Uncle Chris stops for a Take 5 at the railway track. Please come!
Meet Uncle Chris at 8.30am on the 27th November 2022 at King Albert MRT.
I am waiting…
Note:
We do the worldwide practice of tipping at the end of the tour.
We also reserve the right to accept or reject habitual late cancellations and No Shows.