Description
Welcome to our Participatory Design Engagement Session #1 for Singapore's first independent community museum's revamp at a new location!

Do you know Museum@My Queenstown is moving to a larger space in late 2021? This is an opportunity for you to play a part in creating our new permanent community museum and My Community would love to hear what you, the Queenstown resident or someone who is keen in community heritage, would like to have in there to make it meaningful and relevant for you and your community. Talk to us, the Facilitating Volunteers and we will also be preparing big noticeboards with some short questions for you to pen down a short note to share your thoughts!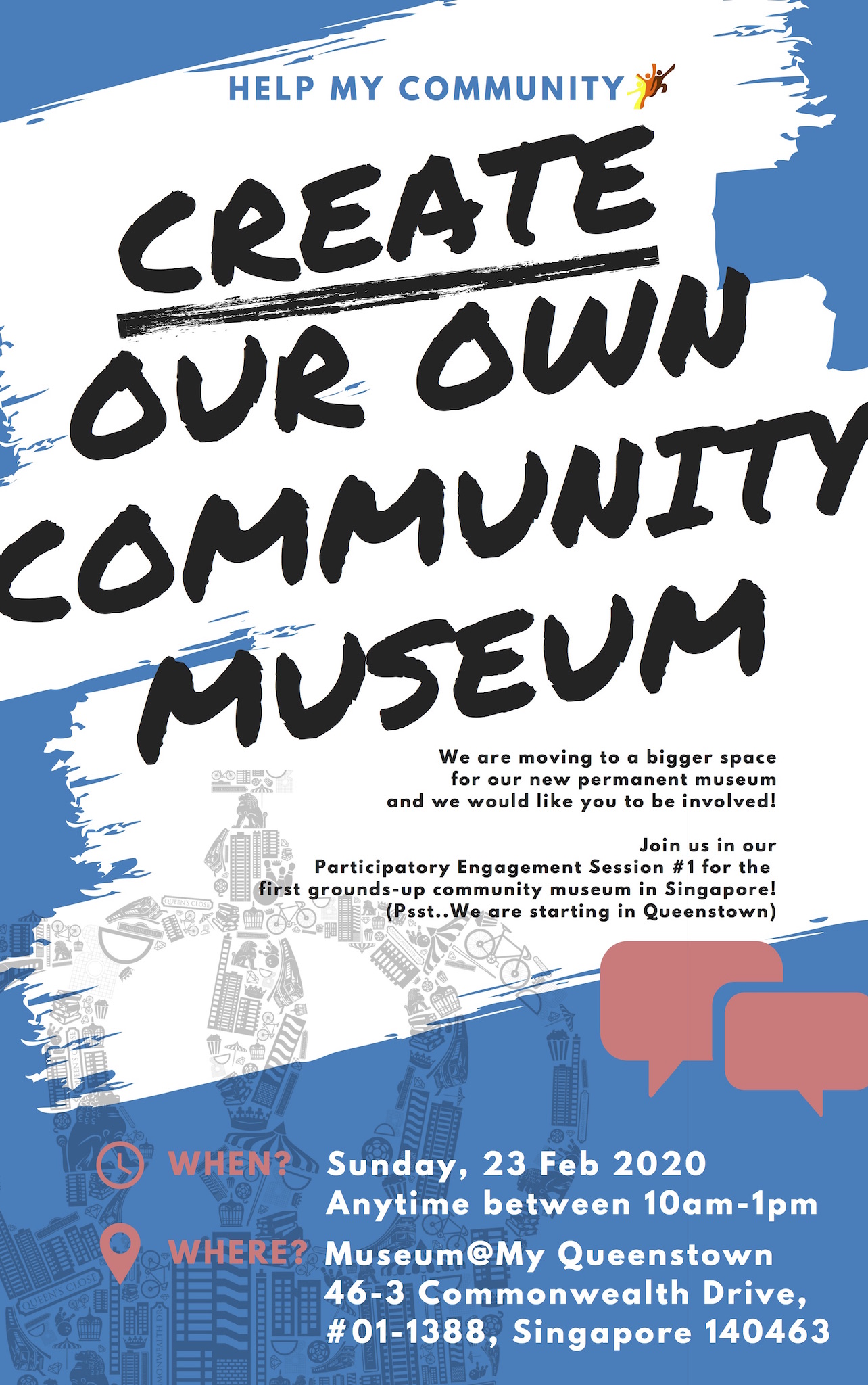 Who should come?
Queenstown residents and anyone who is interested to help mould the way our new permanent Community Museum turns out!
Time & Venue
Time: Pop by anytime between 10am to 1pm
Venue: Museum@My Queenstown (Block 46-3, Commonwealth Drive, #01-388, Singapore 140463)
Nearest MRT Station: Commonwealth
What to bring?
Nothing, writing materials will be provided.
Special Remarks
Please be assured My Community is taking guidance from the various government agencies in our proactive response to the recent Wuhan coronavirus outbreak and our Facilitating Volunteers will be observing relevant practices.

Disclaimer
By agreeing to participate in the activity, every participant will be responsible for any injury, loss of damage due to negligence of other actions on his/ her part or that of any child(ren) under his/ her charge.
It is compulsory for a parent/guardian to accompany any child(ren) of or under the age of 12 under his/her charge.
For updates:
Visit www.facebook.com/myqueenstown or www.mycommunity.org.sg for updates