CREATORMIND INCUBATOR: WHERE YOUR THOUGHTS GO, YOUR ENERGY FLOWS.
About this Event
Hi everyone,
Thanks for being here. I 'm Lion.
I know there is no coincidence (also known as synchronicity) that you are here and contemplating at the choices joining or not joining the CREATORMIND INCUBATOR events.
Here is what we created for you:
This place is for likeminded people to find the the first spark of your creativity via the connection of our inspirational self (everyone has one part of this quality within - believe me not). It is time to bring on the hidden potential to the surface and create the reality that you want.
All I can say :"YOU ARE NOT ALONE".
This is a powerful connection place between you and your inspirational self working together to create your reality. Be prepared to experience flow of power of creativity and the burst of innovation You may be seeking for an answer within you for a long time. We will guide you to seek the truthful answer.
Any further question?
You may ask me via whatapps, be sure you get the promo code to get your first trial of this exploration of your hidden potential.
Welcome you as a friend of the universe.
Facilitator/coach: LION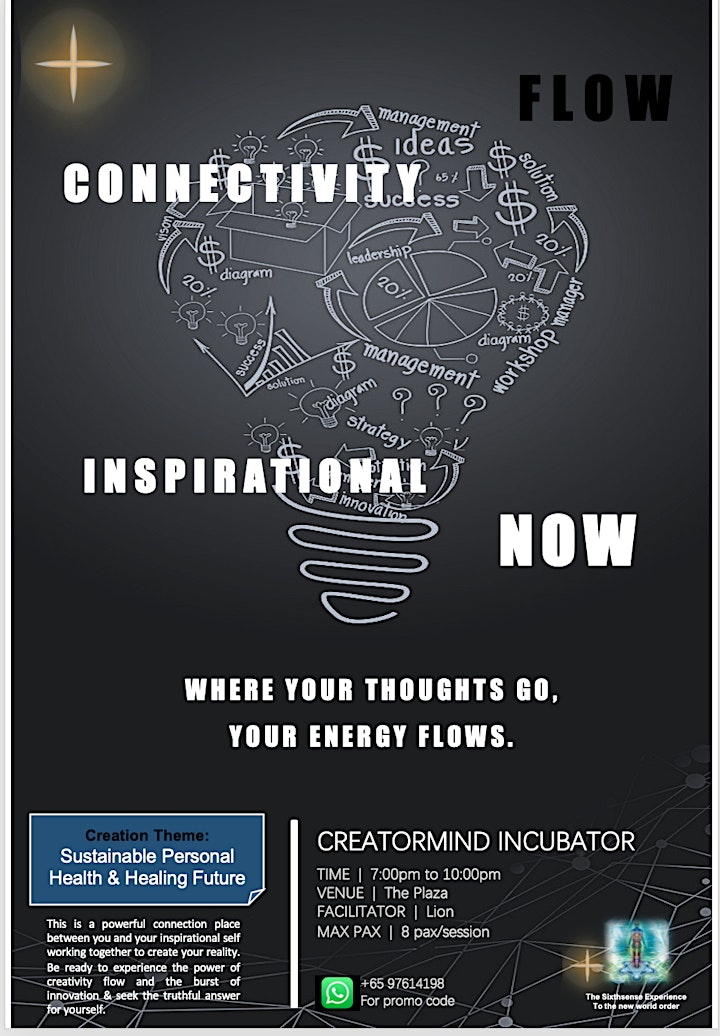 For maximise benefits of the all participants, be punctual as we will try to achieve the state of calmness prior to the program commences.
We run various themes at various seasons. Some of the themes are provided by companies/organisations so that our CREATORMIND INCUBATOR will curate the inspirations towards the required subject matter/content.
How this is run?
There will be quiet moments yet vibrant atmosphere (activity time) for anyone who wants to be inspired. Be open minded and be in the flow of creativity. The sessions will be conducted in English. Hope everyone will enjoy every moment in the flow of inspirations.
Attire: Casual smart
Comments from the participants:
"An inspirational brainwork opens the untapped dimensions as you dive in deep into your mind. Be ready to receive the storm for your brain!"
"Well-paced guided session for calmness of mind & spark off my creative side !"
" I got new perspective for my work issues."
"We did not know there are many seasoned members here who embrace the mindfulness and creativity until we joined in. Great job !"
"There is so much more to learn."
Thank you for the contributors above. We will continue this work as a service for all.
Lion