Defensive Survival Instinct- The Art of Self-Defence and Protection
Sales Have Ended
Ticket sales have ended
Information 资讯: RLIS reserves the rights to reschedule or cancelled the course in event that the minimum class size is not reached or certain unforeseen reasons. The course fees will be fully refundable. RLIS保留权利重新安排课程日期。如有特别事故取消课程,则将安排全额退款。 FOR PERSON WHO APPLYING FOR NSA subsidy: Please bring your NRIC on the day of course for verification. Do arrive 30 minutes before the course begins to complete the application process if you have not done earlier. 申请NSA补贴者:请在当天携带NRIC,以进行验证。 若尚未申请,请在开始前30分钟到达学院办理报名手续。
Sales Have Ended
Ticket sales have ended
Information 资讯: RLIS reserves the rights to reschedule or cancelled the course in event that the minimum class size is not reached or certain unforeseen reasons. The course fees will be fully refundable. RLIS保留权利重新安排课程日期。如有特别事故取消课程,则将安排全额退款。 FOR PERSON WHO APPLYING FOR NSA subsidy: Please bring your NRIC on the day of course for verification. Do arrive 30 minutes before the course begins to complete the application process if you have not done earlier. 申请NSA补贴者:请在当天携带NRIC,以进行验证。 若尚未申请,请在开始前30分钟到达学院办理报名手续。
Learn how to be prepared, be aware, and be ready for the need of self-defence at anytime and anywhere.
About this event
This course consists of 4 sessions totaling 14 hours.
Learning Outcomes – You will be able to:
• Discuss the concept and application of self-defence within the legal framework.
• Recognise appropriate 'use of force' and be aware of risks involved in self-defence.
• Apply techniques/skills to defend and protect yourself in situations of danger.
• Recognise basic human body functions and ways to protect yourself besides reacting.
• Recognise when, where, what, why, and how to be protect oneself, to be ready at all times.
• Gain knowledge and skills that can be applied to various scenarios for self-protection at personal front or at workplace.
Trainer Profile:
Zackiee Ng is a martial art practitioner and trainer holding the highest-ranking, 'Master practitioner' of Tukkong Moosool in Singapore. He has conducted workshops and seminars in self-defence, kick-boxing for air crew control and restraint, government organisations, schools and corporations for more than 20 years. He has been interviewed and featured in the media regularly since 2005. Recently, he was featured in 'Suria' and 'TODAY' for his professional martial art work.
Jerald Tay holds a Bachelor of Business Studies degree from University College Dublin. He is well-trained in various forms of martial arts, including Han Mu Do and Hapkido. He conducts corporate-training Workshops where he incorporates self-defence in team building activities. His current professional practice includes; self-defence instructor, close quarters combat instructor, and air crew control & restraint instructor.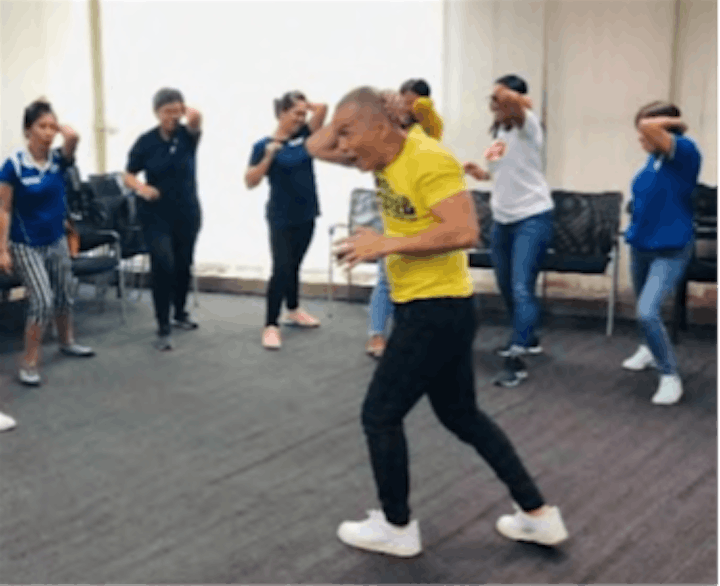 Organiser of Defensive Survival Instinct- The Art of Self-Defence and Protection