Elemental Embodiment – The Retreat - hosted by Stephanie Chaunte Leong from Soma Psyche Alchemy.
About this event
Elemental Embodiment – The Retreat is a somatic immersion thoughtfully curated to provide an invaluable experience to rest, nourish and play through sacred connection with Self, community, and the land. The embodiment practices are both healing and playful, designed to safely allow for the discovery of one's deep Self. Awareness and transformation begins from the living body, our soma. This gentle exploration of the cycle of the five TCM elements will guide us through a beautiful journey within the inner home of our body, for the purpose of our homecoming, the return to our true nature.
There is a place for everyone here.
All are welcome. No experience of somatics or embodiment necessary.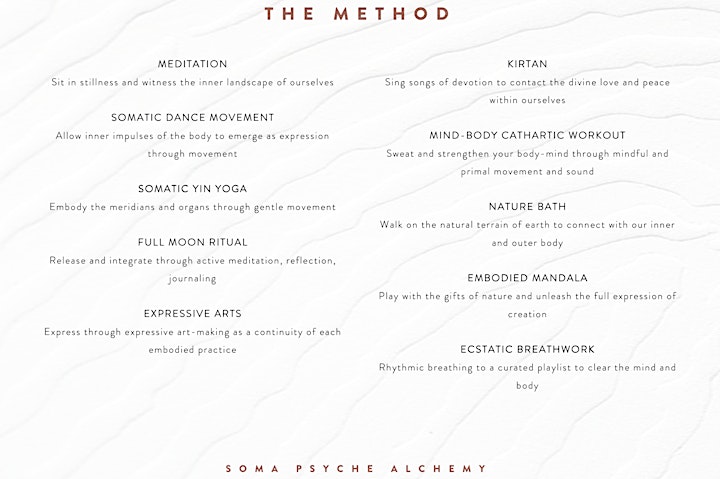 Everything starts with Water
From Water Wood appears
Wood turns into Fire
Fire materializes into Earth
Earth brings forth Metal and then the circle begins again
According to the five elements in Traditional Chinese Medicine (TCM), the cycle begins with water as the rain allows the element of wood, the plants and trees, to grow. In the summer, the wood is scorched and feeds the flame when there is fire. The fire turns plants into ashes, which solidifies into earth. Within the earth, metal ores are formed. When metal gets cold, it causes water to condense, forming rain which rebirths the creative cycle all over again.
Each element both nourishes and affects another element, and is in turn nourished and affected by a different element. This interconnected matrix of nature can be observed in everything experienced in life, from the microcosm to the macrocosm.
DAY ONE
WATER
DAY TWO
WOOD | FIRE
DAY THREE
EARTH
DAY FOUR
METAL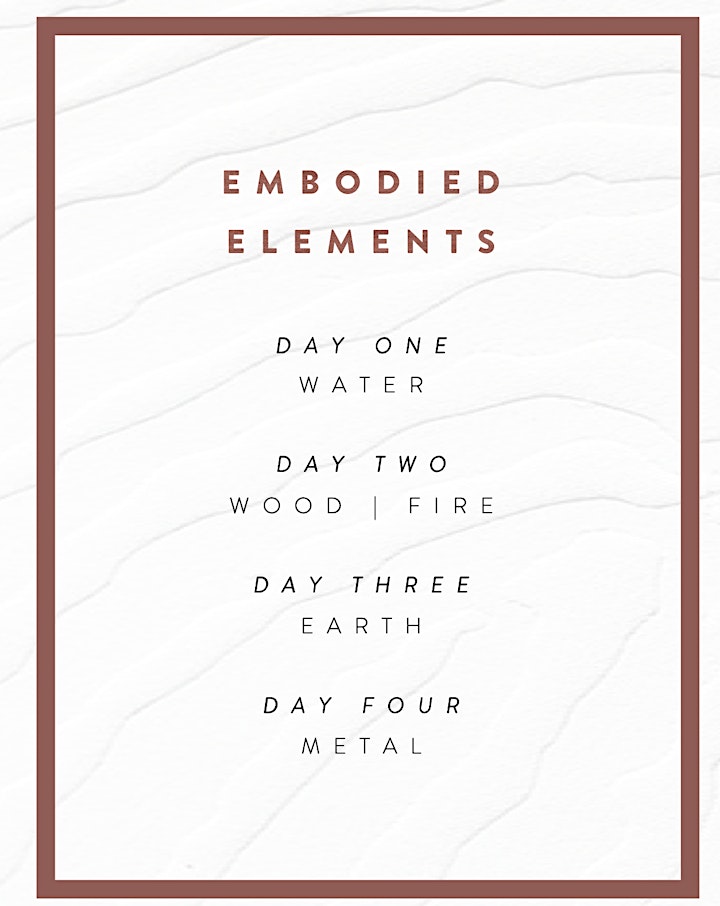 RETREAT INCLUSIONS​
17 EMBODIED EXPERIENCES
MEDITATION | SOMATIC DANCE MOVEMENT | EXPRESSIVE ARTS | FULL MOON RITUAL | SOMATIC YIN YOGA | KIRTAN CIRCLE | NATURE BATH | EMBODIED MANDALA | MIND-BODY CATHARTIC WORKOUT | DEEP SILENCE | ECSTATIC BREATHWORK
6 NOURISHING VEGETARIAN MEALS
BRUNCH AT EQUARIUS HOTEL
DINNER IN SENTOSA
HOLISTIC AMENITY RETREAT KIT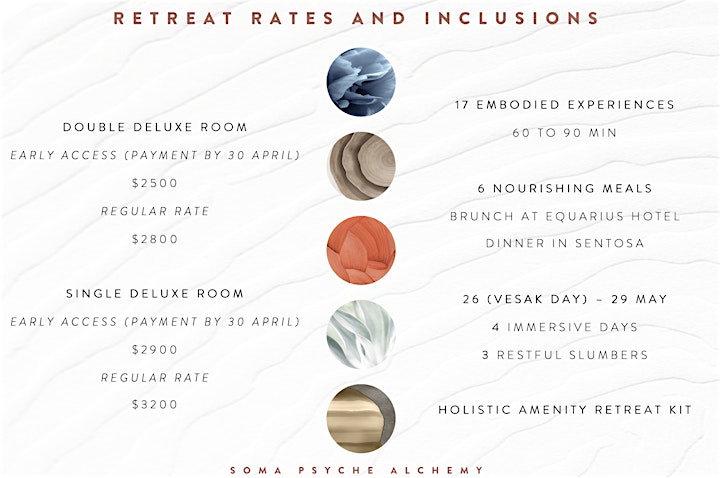 MORE DETAILS
https://www.somapsychealchemy.com/elemental-embodiment-retreat-may-20
BOOK MY SPOT
PAYMENT TO UEN 53427348C
CONTACT AND ENQUIRE
STEPHANIE | 8399 0411
JOURNEY@SOMAPSYCHEALCHEMY.COM