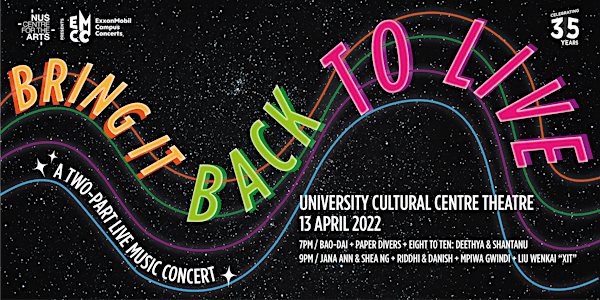 EMCC | Bring It Back To Live
A two-part concert featuring NUS' own musical talents held with a full-capacity live audience at UCC Theatre!
When and where
Location
NUS University Cultural Centre Theatre 50 Kent Ridge Crescent Singapore, 119279 Singapore
About this event
Celebrate the last day of classes with LIVE MUSIC on campus!
NUS Centre For the Arts is delighted to present Bring It Back To Live, a two-part concert featuring NUS' own musical talents and held with a full-capacity live audience at UCC Theatre.
The musicians will warm your hearts and rock your spirits with their diverse original compositions and renditions of popular tunes, ranging from chill indie to uplifting rap.
Slow down and remind yourselves of the unhurried joy of human connection once again. What better way to do so than gathering with your friends for a night of live music?
Bring It Back To Live is presented by NUS Centre For the Arts, as part of ExxonMobil Campus Concert (EMCC): Slow Connection.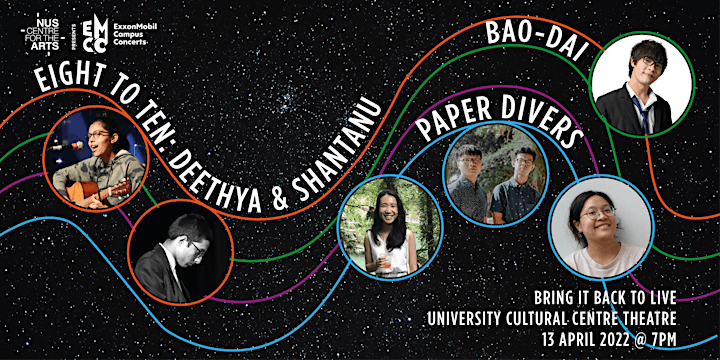 7PM Show
Bao-Dai
Bao-Dai is an AI research scientist and a part-time Masters student at NUS. He is also a music producer and loves writing and arranging his own original songs, especially in the pop ballad genre. He also works with other genres and combines them to make a unique song. An example would be a song he is performing at Bring It Back To Live, I Sing NUSing, which is a mix of ballad and dubstep.
Instagram @baodaiii | Facebook @baodaiii
Paper Divers
Paper Divers is an indie band by necessity – with no label and no profits, they make do with whatever they have. Originally an electronica band, Paper Divers took several detours to arrive at their so-called "signature sound". For lack of better words, they might be loosely described as "a folkier, less articulate Death Cab for Cutie rip-off band". Starting off as a musical project by two brothers: Jared Yip and Jonathan Yip, Paper Divers has since expanded to include long-time collaborators Esther Foo and Sarah Lim, who lend their lovely clarinet and cello skills respectively.
Instagram @paperdivers | Spotify | Apple Music | YouTube | BandCamp
Eight to Ten: Deethya & Shantanu
Deethya begun her musical journey at age 5, learning Indian Classical music and has also explored genres like pop, R&B and soul in both western and Indian contexts. She likes to accompany her songs with the guitar, keyboard and ukulele, and is looking to explore fusion music that marries western and Indian genres, languages and tones. Deethya is also a member of NUS Amplified, NUS Resonance and NUS Indian Instrumental Ensemble.
Shantanu Modak started learning piano at the age of 9 from Mrs. Renu Suresh at the Temple of Fine Arts, and is formally trained in western classical music. Shantanu has been a member of the NUS Indian Instrumental Ensemble for two years, where he plays the keyboard in a variety of styles ranging from Indian Classical to Contemporary music. Shantanu is interested in exploring various styles of music such as Jazz and Pop as well as music composition.
Instagram @deethya.sings @modakshantanu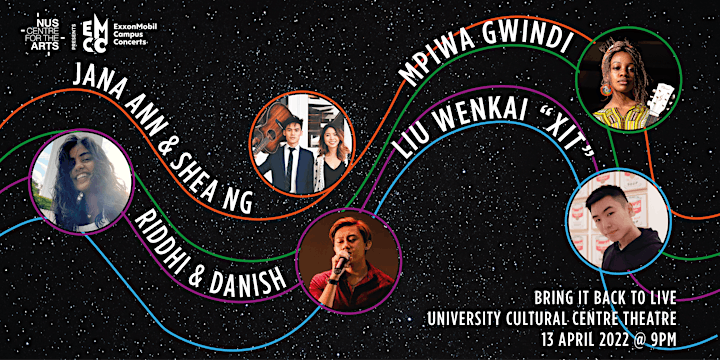 9PM Show
Jana Ann & Shea Ng
Jana Ann is a Singapore-based singer-songwriter who first gained recognition for her soulful renditions on YouTube and Soundcloud. Influenced by the neo-soul and R&B sensibilities of Lianne La Havas, Emily King, and NAO, Jana's smooth riffs and runs are sure to captivate any listener. Music is her therapy, and she believes that songs have great power to soothe, spark joy, and connect people.
Shea Ng is a part-time singer-songwriter, currently working as a medical doctor, where he draws inspiration for his music. He writes and performs in the genre of acoustic pop, with jazz, neo-soul, funk and folk influences. He also plays together with pop-funk band Oakë. A believer in the ability of music and lyrics to serve as a means of catharsis for its listeners, Shea hopes to tell his story using vivid imagery and symbolic chordwork in his writing.
Instagram @janaannnn @sheamisenmusic @its.oake | Spotify Jana Ann Neo / Shea Ng / Oakë
Riddhi & Danish
Riddhi is a 20-year-old singer who has been singing for as long as she can remember but was always too shy to showcase her voice to friends and family. Only when she is home alone does she pull out her keyboard and sing her heart out! Her main goal when singing is always to express her feelings and she hopes that her audience would resonate with those songs.
Danish is a 22-year-old singer-songwriter, and his go-tos are pop songs and love ballads. When it comes to writing songs, he writes about what he feels, thinks about and experiences in his life, from all the happy vibes to the sad feels. His music is about the learning and growth in our most painful memories and most beautiful moments; music has helped him get through his roughest moments and he hopes that his music can help others in the same way.
Instagram @riddhibhasker @musicalpastry
Mpiwa Gwindi
Mpiwa is a 21-year-old Zimbabwean singer and songwriter who plays mbira (Zimbabwean thumb piano), guitar and marimba. She began playing instruments at the age of 10 and she has shared her musical art with the world to honour God and authenticate African culture. Mpiwa performed at the renowned Harare International Festival of Arts (HIFA) and recorded marimba music at the late Oliver Mtukudzi's Pakare Paye recording studio in 2012. One of Mpiwa's accolades include the Africa Day 2018 organisation and hosting of ZiMarimba Fest 2k18 in Harare, which was an officially registered Guinness World Record attempt for the largest playing marimba ensemble. Since 2020, Mpiwa has performed on several other platforms in South Africa and Singapore.
Instagram @mpiwagwindi
Liu Wenkai "XIT"
Wenkai is currently in the Juris Doctor program at NUS Law School. He has lived and studied in Beijing, San Francisco and New York over the years. Wenaki started rapping 4 years ago despite having no training in singing or playing instruments growing up. He initially though that it was a cool thing to do, but as he went along with this new found passion, he realised that it was the best avenue for him to express his thoughts and feelings. Rapping has given him the opportunity to work with some great people and it has now become a part of who he is. Going by the stage name "XIT", he has written quite a few songs and has professionally recorded four songs when he was in New York.
Instagram @rappingramen