Description
Time is slowly slipping away from you…the burden of someone's death weighs upon your shoulder as though you had been crippled. Wanting to know the truth has always been something that is at the back of your mind, and it is time to bring some closure to that incident that happened in the summer of 1972.
On the first Saturday of the month, come form a team of up to 5 players. Or better, get together with other fellow participants whom you just met in our museum space set in a murder mystery theme. To unravel the mystery, each team must work together to find clues, solve puzzles and accomplish tasks within a given time of 20-25 minutes. (Of course, in theory, you can open the door and leave at any time - but what's the fun in that?)
Join us to see if you can solve the murder mystery and escape in time from Museum @ My Queenstown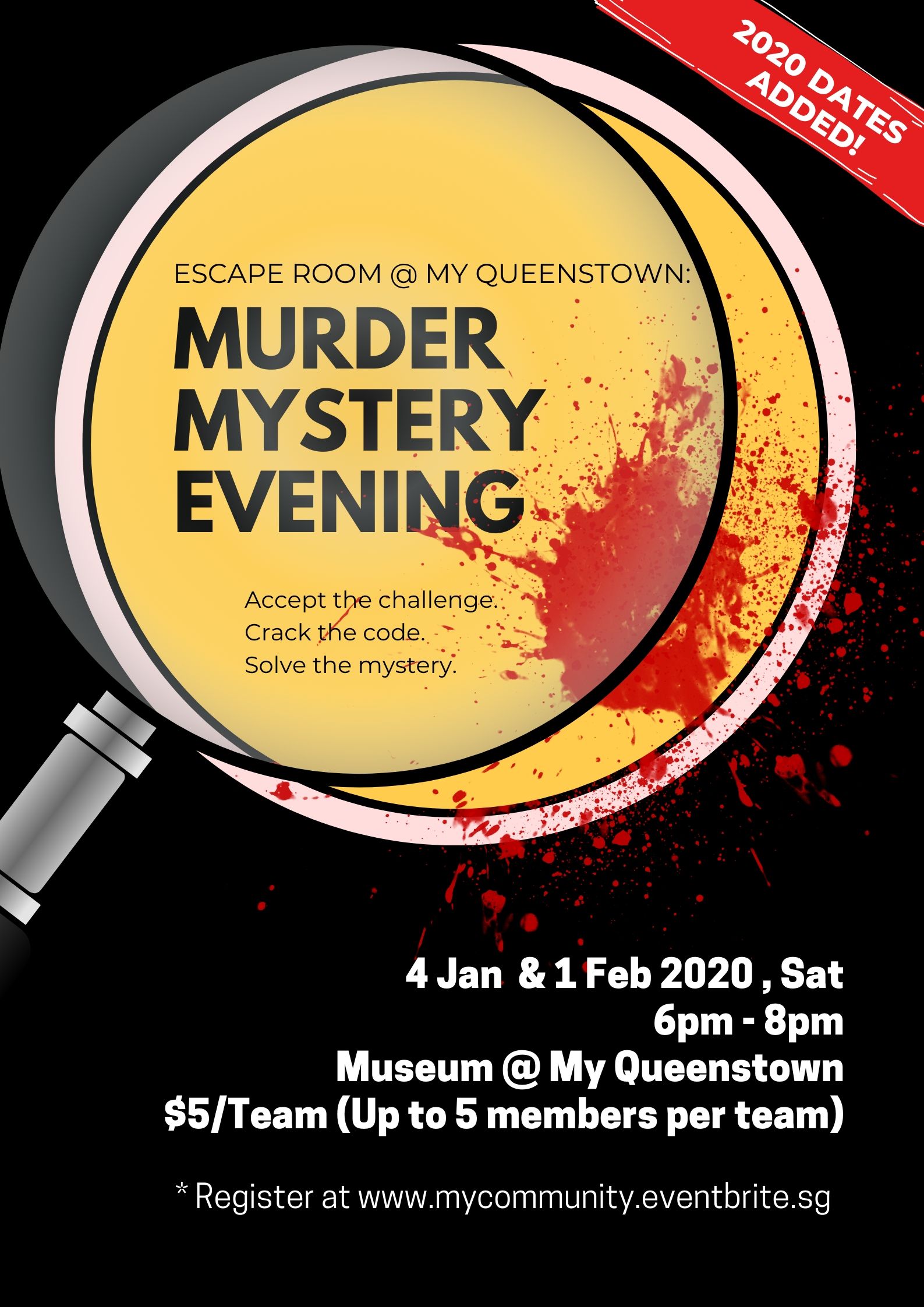 Who should come?
Participants of all ages – young or old (young-at-heart) are welcome to join us in My Community's very first escape room set within a community museum. Whether you are a beginner or an expert of escape rooms, it does not matter as the purpose is to have fun and enjoy yourself, all while cracking your brain to solve the mystery.
How do I register?
Simply indicate your interest on our Eventbrite page and state the number participants (if you are signing up as a group of 5 or individually).

Please arrive 15 minutes before the start of the programme as this will give use some time to go through registration as well as a short game explanation and rules (the boring stuff).

There are 4 available timeslots to choose from: | 6 pm to 6:30 pm | 6:30 pm to 7:00 pm | 7 pm to 7:30 pm | 7:30 pm to 8:00 pm
Disclaimer
By agreeing to participate in the event, every participant will be responsible for any injury, loss of damage due to careIessness of other actions on his/her part or that of children under his/her charge.
It is compulsory for a parent/guardian to accompany any child of or under the age of 12. children under his/her charge.
For updates:
Visit www.facebook.com/myqueenstown or www.mycommunity.org.sg for updates