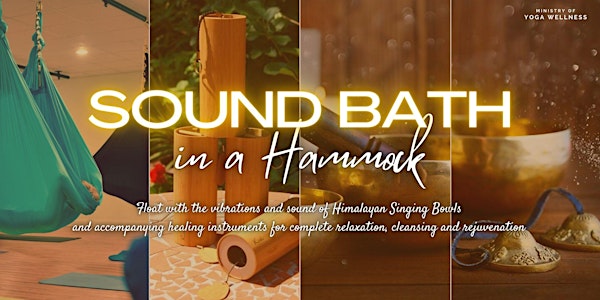 Multiple dates
Floating Sound Bath in Hammock
Unwind in a hammock to enjoy a sound bath for complete relaxation, cleansing and rejuvenation.
By Ministry of Yoga Wellness
Date and time
Sun, 5 Mar 2023 14:30 - Tue, 30 May 2023 20:15 +08
Location
Ministry of Yoga Wellness 34 South Bridge Road #02-01 Singapore, 058668 Singapore
About this event
Relax in a hammock and float with the vibrations and sound of the Himalayan Singing Bowls, and other accompanying healing instruments such as Chimes and Drums etc. Singing bowls create soothing sounds and vibrations that slow down brain waves to a deeply restorative state, which activates the body's system of self-healing.
Benefits of Sound Healing include:
Deep relaxation
Stress and fatigue reduction
Promote deep sleep
Release emotional tension and pain
Improve energy flow and strength
Improve focus and concentration
Fewer mood swings
Lower blood pressure
Lower cholesterol levels
Better immune system
Better pain management / pain relief for joints, muscles etc.
Reduced risk of strokes and coronary artery disease
Balance chakras system
Remove blockage and toxins from body
Purify your emotions
Cleanses negative energy
Improved self-confidence, productivity and creativity
Positive feeling of self
Balance and harmony in your life
It can also complement treatment for conditions such as depression, anxiety disorders, dementia, people with learning difficulties, behavioural and psychiatric disorders, sleep disorders, aches and pains. Sound healing not only works on the physical body, but also transform you on the mental, emotional and spiritual well-being.
No experience is required. All are welcome. Join us to experience joy and bliss from deep within.
Things to note:
Dress code - comfortable attire (no sharp or pointed accessories/design which may damage hammock)
Remove watch and jewellery for better experience
Eye mask, cushion and blanket will be provided. You may also wish to bring your own for hygiene or personal preference.
You may wish to bring an extra jacket/shawl for extra comfort.
Switch your mobile to silent mode and keep them in lockers provided.
Arrive 15 mins before class starts.
Please do not attend the session if you are having a headache, fever, cough or flu symptoms.
Booking can be made via Eventbrite. For payment via PayNow, please WhatsApp to 8829-5288 for booking of slot.
Venue: Ministry of Yoga Wellness
Address: 34 South Bridge Road #02-01 Singapore 058668
Duration: 75 mins
We are 3 mins walk from Clark Quay MRT Station (NE5), or 8 mins walk from Raffles Place MRT Station (NS26/EW14). More details on www.ministryofyogawellness.com
Session conducted by Jesslyn Lim - Yoga, Ayurveda and Sound Healing Therapist. https://www.ministryofyogawellness.com/team/jesslyn-lim
Frequently asked questions
What is a Floating Sound Bath?
Why is it called a Sound Bath?
What should I wear for Floating Sound Bath?
I do not feel comfortable lying in a hammock, can I still attend?
About the organiser
Ministry of Yoga Wellness offers wide variety of yoga classes which cater for different age group and all levels of yoga practitioner. Check us out at www.ministryofyogawellness.com