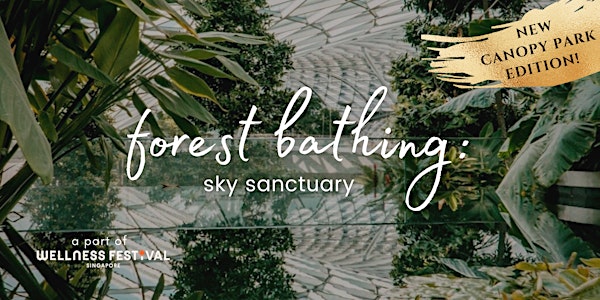 Forest Bathing: sky sanctuary
Wellbeing and being well, in the heart of Jewel. This exclusive workshop brings your therapeutic forest bathing journey to the Canopy Park!
By 休 XIU NATURE CONNECTIONS
Date and time
Sun, 9 Jul 2023 08:00 - 10:00 +08
Location
Canopy Park - Jewel Changi Airport Boulevard #Level 5 Singapore, 819666 Singapore
About this event
Jewel Changi Airport and Xiu Nature Connections are delighted to bring an exclusive therapeutic forest bathing journeys back to the Changi precinct, with a refreshed Canopy edition! A special curated workshop as part of the Wellness Festival Singapore 2023.
Tranquility in the sky. This exclusive 2-hour guided forest bathing experience will be held at the Canopy Park, amidst lush foliage and creative floral arts. Explore and experience a new therapeutic side to this wonderland; be in a sky sanctuary.
Forest bathing is a gentle journey that will awaken your senses - literally and/or metaphorically. It is not just a walk in the park, but a sensorial remembering of all of nature, including yourself. There are many demonstrated physiological benefits of forest bathing, including lowered blood pressure and improved heart rate variability. Less highlighted and equally important, forest bathing also benefits our mental and emotional health.
This series is curated and accompanied by Singapore's leading and most-experienced certified forest therapy guide(s). The experience will provide structure as well as a refreshing sense of openness and brave space to allow the natural unfolding of your sensorial re-discovery to self, others and all of nature. We will conclude our gentle morning with our signature forest tea sharing.
You may choose to continue your gentle morning with a bird's-eye view of the forest valley as you saunter along the Canopy Bridge. With awakened senses, may this walk through air envelope you with more softness and wonder for the world.
Re-experience and re-discover this green oasis at the heart of our award-winning Changi Airport. May you step easefully into the rest of your day with bejewelled senses and a full heart!
What is included
A 2-hour guided forest bathing journey facilitated by certified forest therapy guide(s)
Tea sharing
1x admission ticket to Canopy Park + Canopy Bridge
A forest-inspired gift.
The Canopy Bridge will not be part of the forest bathing experience. You are advised to visit the Canopy Bridge on the same day after the forest bathing experience, i.e. the ticket must be used on the same day.
Separate admission charges apply to Hedge Maze, Mirror Maze, Walking Net, Bouncing Net.
What to expect
The forest bathing experience takes on a slow immersive pace. It is not a hike or a typical nature walk. It will not be strenuous.
Certified forest therapy guide(s) will facilitate the experience. Nature and forest bathing activities are suggested but are never compulsory.
Since we are immersing in a comfortable indoor garden, outdoor/sports wear is optional.
Due to the more contemplative, slow and quiet nature of the experience, it is recommended for anyone aged 16 and above.
Important details such as our meeting point and other matters will be in your confirmation email from Eventbrite when you complete your registration. Please make sure to check your spam/junk folder.
Electronic admission tickets for the Canopy Park + Canopy Bridge will be sent to you separately via email.
Forest therapy and forest bathing are Science-backed. Research has shown them to benefit our health. You can find out more about forest therapy here.
"Nature surrounds us, from parks and backyards to streets and alleyways. Next time you go out for a walk, tread gently ..." - David Suzuki
Reviews
"A gem of an experience. Starting my mornings bright and easy in the forest is so soothing and everyone should try it." - Guest
"One thing that surprised me about the experience was how we easily connected with our being and the surroundings." - Guest
"It's indeed an interesting session to learn a different way of experiencing a forest walk (without the bugs and mosquitoes!) using my own senses. It gave a calming and surreal feeling as everything slowed down." - Guest
Payments and registration
We also accept payments via Paynow and/or bank transfer. If you prefer to pay via Paynow and/or bank transfer, please write to hello@xiunatureconnections.com or DM us on our Facebook or Instagram to complete your registration and reserve your spot.
Important Notes
Please read our Terms and Conditions.
Registrations are strictly non-refundable.
We reserve the rights to cancel and/or postpone the session if the minimum number of participants is not met. You will be entitled to the choices of (i) registering for another session; or (ii) refund (administrative fees charged by Eventbrite and/or PayPal and/or other payment processing platform may not be refundable and is beyond our control).
Photos and/or videos will be taken and may be used for publicity purposes including on websites, social media etc. by Jewel Changi Airport, Xiu Nature Connections, and/or other partners including but not limited to Singapore Tourism Board. If you prefer not to be included in these photos/videos, you must inform your guide prior to the start of the session.
There will be no reminders sent for the event.
Questions? Please contact hello@xiunatureconnections.com .
About the organiser
休 means 'to rest'. Rest, is the basic ingredient in all approaches to wellness. To deeply rest and restore is a skill lost and forgotten as we traverse and hustle through our modern busy lives. To rest is to allow yourself to be in the space of no-thing-ness.
Through our programmes such as forest therapy (forest bathing or shinrin yoku) and yoga nidra, we invite you to rest. We invite you to re-connect. We invite you to rise.
From our regular forest bathing walks to yoga nidra workshops to customised rest programs, we are committed to promoting 'a good life' across all ages and communities in Singapore.
Private or customised nature connection programmes are available and are suitable for wellness, coaching as well as corporate retreats.
Join us to rest for our mental, emotional and physical wellbeing. Join us in #ThrivingFromRest !
Connect at hello@xiunatureconnections.com !