Description
Chiffon cakes are notoriously tricky but oh-so-yummy!
I am conducting a Chiffon Cake workshop and we are making a super soft and aromatic Pandan Chiffon Cake AND a to-die-for Hokkaido Milk Cocoa Chiffon Cake.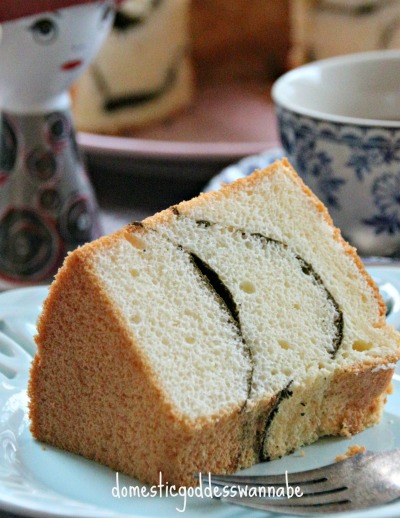 At the end of this lesson, you will be able to make any chiffon cake you desire.
What you will learn:
2 chiffon cake recipes
How to create layers
How to get the right meringue
How to unmold a chiffon cake
What you will prepare:
1 6" Pandan Chiffon Cake
1 6" Hokkaido Milk Cocoa Chiffon Cake
What the fee includes:
Ingredients for the class
Use of kitchen equipment
Aprons
Containers for bringing cakes home
Recipe printout
Class structure:
Introduction to ingredients
Demonstration by Chef Diana Gale
Interactive hands-on baking session
Participants are to bring their own pen and clipboard for the class if they wish to take notes. Participants may be asked to share workspace depending on recipe.
The maximum class size is 12. Classes will start with a minimum of 8 participants. Fees paid are non-refundable, and if a participant is absent for a workshop, no make-ups will be conducted. Fees paid cannot be transferred to another workshop.
In the event that the minimum number of participants is not met, the class will be cancelled. Participants will be informed via email and all monies paid will be refunded.
Registration is on a first-come-first-served basis. Full payment must be made at the point of registration.
Videography is not allowed for this workshop.
The Domestic Goddess Wannabe reserves the copyrights of any videos and photography taken in class for future promotional purposes, without any prior notice.
All ingredients are halal.
NOTE: All ingredients are pre-measured.
Organiser of Hands-on Pandan Chiffon & Hokkaido Milk Cocoa Chiffon Cakes Workshop
Diana Gale is an avid cook and baker. She started cooking and baking at the age of 10 and has documented more than 650 recipes in her blog, The Domestic Goddess Wannabe.
Winner of Best Cooking Blog in Singapore Blog Awards in 2014 and 2015, Diana is a teacher by training and has also taught for more than 20 years. Now she combines her skills in teaching with cooking and baking and teaches folks how to cook and bake, even the most complicated recipes, with ease.
Diana believes that one has to do in order to learn, so all her cooking and baking workshops are hands-on, and at the end of each workshop, she hopes to equip you with the right skills so you can reproduce the skills learnt and apply them to even more dishes!