Learn How You can Release Stress in a Step-by-Step Guide by using Emotional Freedom Technique / Meridian Tapping in a Free Online Class
About this event
This online class is for you if you are hoping to learn how you can manage and release stress and anxiety in a way that is safe, easy and effective.
Discover how you can Shift from Stress to Calm Naturally, using a PROVEN system that draws on TCM Meridian System for emotional healing and mental well-being.
Be Guided in a Step-by-Step Way, so that you can apply the steps to many areas of your life even after the class.
In this FREE online class, gain access to the following:
1. A "Live" Demo on Tapping the 9 Meridian Points on your face and body using your finger tips, for releasing stress and anxiety.
2. Be Guided so that You can be your Own Healer!
3. Find out how you can Tap into the Wisdom of Your Body for healing.
4. Learn How You Can Manage Your Emotions, so that you don't hurt the relationships that you have with your loved ones when you are unable to manage your anger or frustration.
5. Learn the Secrets to Building Emotional Resilience, so that you can better cope with stress.
6. Learn How the Same Proven System can be applied to Multiple Life Situations such as addressing headaches, pain relief, public speaking, self-esteem, financial abundance, fatigue, etc.
7. Discover the Science behind Healing using this System. Get to learn the scientific studies behind why it works!
Who Can Attend
Just about anyone who is interested to learn, have a wifi connection, can access via laptop or computer.
It doesn't matter where you are located as the class is online!
Please ONLY join if you are open to alternative forms of healing.
Cost of Workshop: Free!
About Your Facilitator
Evelyn Lim is an Online Life Coach, Wellness Advocate and Intuitive Consultant based in Singapore. She specialises in helping women with emotional healing, so that they can achieve their life and business goals a lot more easily. With 10 years of experience in the personal growth and healing field, she has helped clients from various parts of the world.
Evelyn is a Certified Advanced Emotional Freedom Technique and Matrix Reimprinting Practitioner. She is also an Executive Enneagram Coach and trained in Master NLP.
Evelyn is also a mother of two lovely teenage girls and an author of three books.
Her instagram account https://www.instagram.com/evelynlimcoach
Testimonials
"Evelyn is a good listener and is also compassionate. She has a strong understanding of money myths and is very quick to analyse the root cause of my issues. I am grateful and thankful for her support and guidance".- Jennifer Lee, Financial Controller, Singapore
================
"I just want to say that Evelyn has been an amazing huge help in my life.
When I first came to her, I had so many issues around money, around deserving…deserving the job I love and having the career I love.
But, with Evelyn's help, I cleared so many of my limiting beliefs and trauma that I cannot even describe how much I have cleared. These very deep-seated issues that I thought they would never go away had just magically gone away.
And definitely, EFT with Evelyn is different than I have done with other people; like in a good way. It was so effective for me."
R Dominic, London, IT Professional
================
It was totally transformative. It was such an amazing journey. I really recommended to any woman out there who's looking at changing her life for the better. "
Rita Wolow, Australia
More 100% genuine client testimonials from around the world available.
Steps to Attend the Online Class
1. Register by booking a ticket.
2. After registration, you will be emailed a zoom link for the online class.
3. Mark the date down on your calendar.
4. On the day of the event and 5 mins before it starts, wash your hands throroughly. Have a glass of water nearby.
5. Click on the link in your email on your laptop. Key in the password to connect.
BOOK YOUR SEAT NOW
This could be the BEST thing that you can do and learn while staying home.
It is the leading therapy that you can apply even on your own. It is a universal healing aide and a tool to manage stress and emotions.
Tap into Greater Freedom with Me!
Less Stress, Live More!
The session is complimentary, as my way of passing it forward.
Book your seat now!
This class has NO replay recordings. Attend it "live"!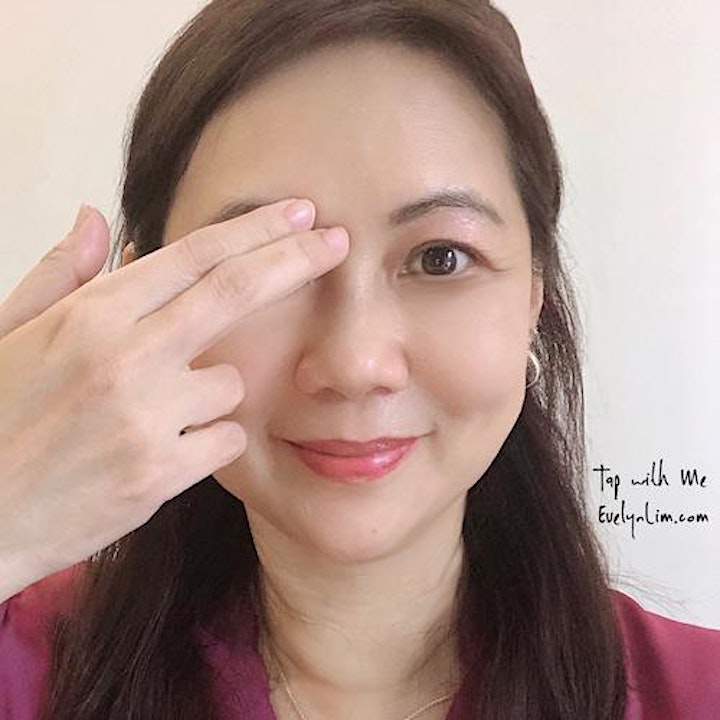 Organiser of How to Release Stress Naturally: Free Guided Session from Stress to Calm
Evelyn Lim is an International Life Coach, Certified EFT Practitioner, Matrix Reimprinting Practitioner and an Enneagram Executive Coach. She specialises in helping women clear their deep-rooted fears, so that they can achieve their dreams and goals a lot more easily. Her clients are women from various parts of the world including US, UK, Australia and Singapore. 

Evelyn is alao a mother to two lovely girls. Her purpose is to inspire them to live a life of passion and purpose. She conducts EFT Workshops in Singapore and also hosts online stress release classes. Her mission is to create a ripple effect that transforms lives and that would make a difference.