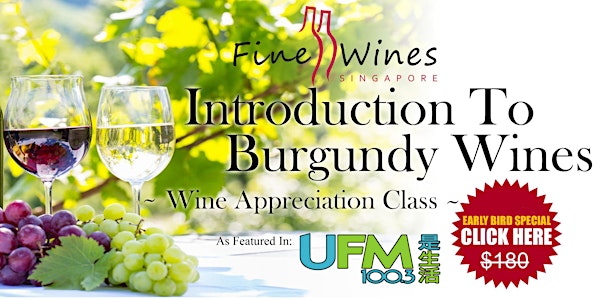 Introduction To Burgundy Wines
If you admire Bordeaux wines, you will fall in love with Burgundy. This introductory class is that is packed with practical information tha
When and where
Location
Fine Wines SG Pte Ltd 114 Lavender Street #02-60 Singapore, Singapore 338729 Singapore
About this event
It is said that, "Burgundy is a holy grail for wine geeks: a region impossible to master, impenetrable to the casual observer, and endlessly fascinating."
FEAR NOT...
WE HAVE THE "SHORTCUTS"
TO MAKE YOU A BURGUNDY EXPERT
In this exciting, introductory class, we will help you understand and master Burgundy basics in just 2 hours!
Introducing Singapore's First
Burgundy Virtual Wine Appreciation Class
This is the only Virtual wine class where you will have 5 types of wines delivered to your home and our certified wine educator will guide you REAL-TIME!
Fun In-Home/Office Experience To Keep You Safe.
At the end of the lesson, you will be able to understand how Burgundy's wines taste the way they do and how to you can continue exploring this famous and sought after region for their Pinot Noirs & Chardonnays
 Not your ordinary wine tasting event... this introductory class is that is packed with practical information that will turn you into a confident wine consumer--in more ways than one! Our dedicated wine trainers will guide you every step of the way, offering advice on wine appreciation techniques, recommendations on wine pairing, and much more.
 Taste Wines Like A Billionaire! Improve your wine knowledge and discover your wine palate! Learn a lifelong skill that can help you in your quest to find your dream wine!
Lesson Overview 
1) Introduction of Burgundy Regions & Classifications
2) Understanding Wine Labels
3) The components of wine and wine lingo such as body, acidity, tannins, finishing
Wine Tasting Overview (3  Premium Red Wines + 2 Premium White Wines)
4) Swirl, sniff and sip 5 wines from famous regions of Burgundy
5) Learn, taste and understand the complexity of a Grand Cru, Premiere Cru, Village and Bourgogne wines
6) Experience the different styles of Chardonnay in Burgundy by tasting a Chablis, Puligny Montrachet, Maconnais wine side by side
7) Put Your Wine Palate To The Test – Premium vs Entry Level Wines
 - Minimum 8 persons to commence
- Duration: 2 hrs
Usual Price: $280
Early Bird Discount: $139  + Free $20 voucher + Free $50 Sono One voucher
Bring a friend and save additional 5% For multi ticket purchases, please email sales@finewines.com.sg or call us at 6385 2435
Such wine lessons in the market usually costs $500+ but here at Fine Wines SG, we believe that all wine lovers should be equipped with this basic wine knowledge to enjoy wines better and to upgrade one's social identity thus we are offering this low price.
Whether you are a novice or expert wine lover, it would be a fun and educational experience for all.
Terms & Conditions
- No refunds will be made for no show. 
- Refunds will be made if event is cancelled. 
- Voucher is personal and non transferable. 
- Voucher is limited to purchase of wines. 
For more wine lessons, visithttp://www.finewines.com.sg/wine-lessons
For corporate or large group wine appreciation classes, visithttp://www.finewines.com.sg/corporate-wine-events-singapore/
For enquires please call 63852438, email us at sales@finewines.com.sg 
For corporate events please contact pk@finewines.com.sg 
For more upcoming wine events in Singapore, click the following link